We have fallen head over heels for Leon's! Right on Meads Bay, nestled between Malliouhana and Carimar, Leon's location is one of the best on the beach. Sparkling blue water ahead, rustling palms all around… it is picture perfect.
Leon's has been winning us all over with terrific cocktails. Tip: Don't miss the Anguilla Sunrise. Made with Prosecco, it is extra-refreshing.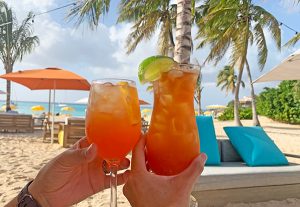 When it comes to eats? Their jerk beef burger is one of our favorite burgers of all time. Cooked to perfection and served on a hot Johnny cake, it has been our "go to" at Leon's. That is, until they introduced NEW menu items including a BBQ chicken sandwich…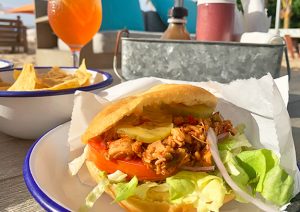 Minced BBQ chicken is mixed in a sweet sauce with peppers and topped with pickles, all wrapped in a warm, yummy Johnny Cake. The BBQ chicken and hot Johnny cake is a match made in heaven!
Leon's is open daily for lunch and dinner.