Overlooking the undisturbed, white sand shores of Long Bay lies Anguilla's first Relais & Châteaux property, the grand Quintessence Hotel. The hotel is home to one of the island's finest five-star restaurants, JULIAN'S: A Tropical French Bistro.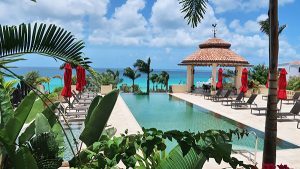 Lunch is served in the most elegant of settings, overlooking the hotel's pool.
What's for lunch?
Chef Dominique Thevenet whips up a plethora of specialties. His chilled soup with tomato, cucumbers, bell pepper and red onion makes for a refreshing start to lunch.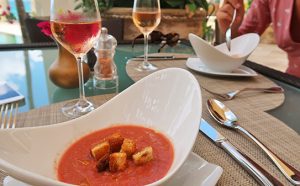 It sets the stage for the show stopper…
The Crab Cakes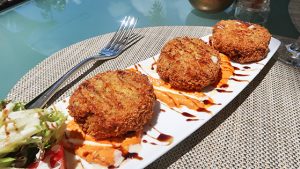 Panko crusted lump crab cakes, they are served with an apple fennel slaw and roasted red pepper aioli. They are a "must have."
JULIAN'S is open for lunch from 11:30am-2pm and dinner at 6pm-11pm. For reservations, call: 264-498-8106.