When it comes to dining institutions in Anguilla, Pumphouse is a "go to." A funky pub with a rich history, it is set in the heart of the spirited Sandy Ground village and home to many tasty bar eats!
The Tuna Poke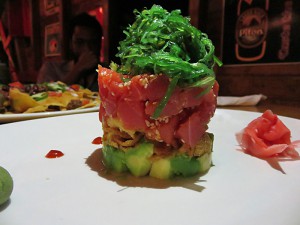 Sizable chunks of fresh tuna are lathered in a spicy sauce, tossed with sesame seeds and layered on wonton crisps and avocado.
Chili Cheese Nachos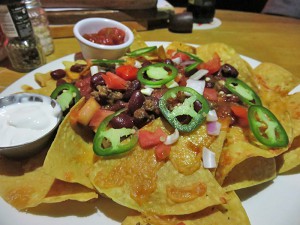 Warm tortilla chips are melted with cheese and topped with chili, tomatoes, red onion and jalapenos. Sour cream and salsa served on the side.
Potato Skins
A staple in bar eats, Baked Russet potato slices are topped with cheddar and bacon and served with a side of sour cream.
Pumphouse also has a delectable variety of soups and salads as well as elegant mains, including the sesame crusted ahi tuna, butter-poached mahi mahi, jerk chicken and of course, BBQ ribs!
An excellent way to start an evening out, here is Pumphouse's weekly event line up…
– Monday — Trivia from 8pm
– Tuesday — DJ Black Phoenix from 8pm until
– Wednesday — 264 Band from 8pm until
– Thursday — Musical Brothers from 9:30pm
– Friday — Karaoke from 9:30pm
– Saturday — Mystic Vybz from 9:30pm