A favorite for its breathtaking view of Sandy Ground blue, we are excited to announce that Flavours is BACK!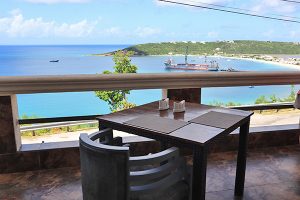 The delightfully breezy restaurant is owned and operated by Chef Kevin Paul. He is a household name here in Anguilla, best known for creating some of Straw Hat's most popular menu items back in the day. Today Chef Kevin Paul's creations can be tasted at Flavours.
What comes highly recommended?
First, Chef's tomato pie…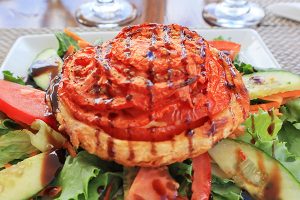 Layers of tomato are mixed with mozzarella and popped into a flaky pastry shell. The sizable creation is baked and finished off with a balsamic drizzle. It is one of THE best dishes in Anguilla.
Another favorite is the juicy fish sandwich…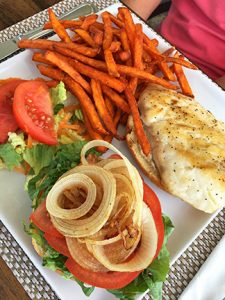 This fish sandwich packs a punch! Its secret? Grilled-to-perfection fish is topped with a gentle jerk aioli. Every bite is tasty-spicy delight.
If it's pasta you prefer, Chef Kevin Paul has you covered, too.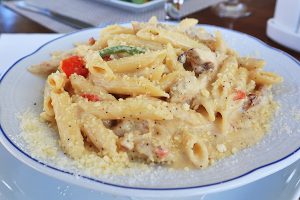 With roasted chicken and lots of veggies, it is a quality pasta plate.
A sweet spot for family lunches and romantic dinners, join me in saying a huge "welcome back to Flavours!"
Flavours is open daily for breakfast, lunch and dinner. Closed Sunday.