Chef Ken, you have really outdone yourself this time!
NEW to the Cha Cha San menu is crispy duck pancakes.
Fried duck is served with slices of fresh cucumber, scallion and warm pancake wraps.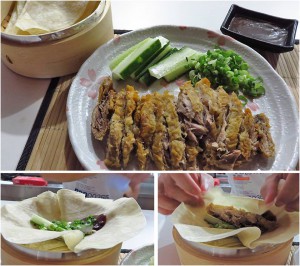 Rolled together with Hoisin sauce, it's an exceptional dish!
One of our family's very favorites when dining in London and New York City, we were overjoyed to see these savory duck pancakes on the menu during a recent visit to Cha Cha San. The flavors are simply sublime.
Thank you, Chef Ken!
And now, each and every Friday night, starting this coming Friday, Cha Cha San will be hosting DJ Michael from 8:30-11pm.
See you this Friday at Cha Cha San 🙂