This summer Chef Marc has introduced a gourmet 3 course prix fixe dinner menu (visit Menus.ai to see the full menu). The menu features a choice of 5 appetizers, 5 mains and 5 desserts. In addition to the set menu, Chef Marc also prepares special dishes nightly.
We dropped in to sample the menu. The verdict? Chef Marc has done it again!
Here are some of the most memorable dishes…
Appetizer Special – Chilled English Pea Soup with Lychee & Dill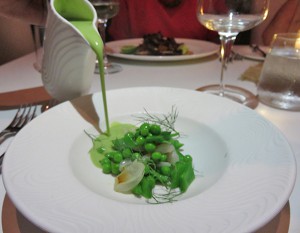 Delightfully refreshing, the touch of dill enhances the dish's fresh taste. It's a light way to begin the three course meal, and the presentation is picture-perfect.
Grilled Korean Short Ribs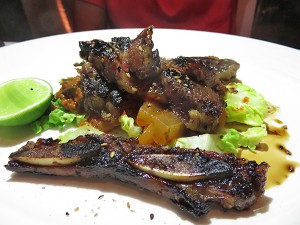 … served atop cucumber, kimchi and lettuce. This was my Mom's favorite dish of the night. "The kimchi is 100% authentic," she enthused.
Appetizer/Main Special – Lamb with Pickled White Asparagus and Lavender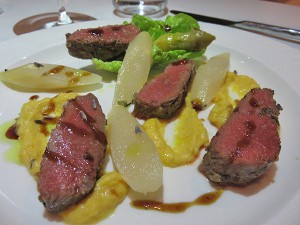 Another favorite, my Mom layered each bite like so – lamb, white asparagus, lavender grains. She couldn't get enough of the interesting flavors. A curious and winning combination.
Main Special – Homemade Pasta with Oxtail and Chanterelle Mushrooms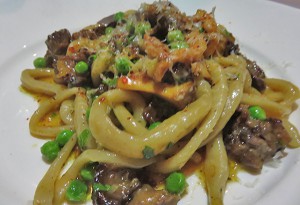 Between the slightly sweet oxtail, the thick, homemade pasta, the white wine sauce and the Chanterelle mushrooms, it IS a very rich dish. Yet, somehow it's not overwhelming or heavy. Divine on all accounts.
Another top main dish is the "Lionfish en Papillote." Fresh lionfish with garlic-bottarga butter is wrapped in parchment and baked in Chef Marc's wood oven and served with cherry tomato and potato confit. The wood oven flavors shine strong!
However, the very best dish by far? The Magret Duck Breast.
Cooked to your preference, each bite of duck is tender, soft and succulent on the inside, with its edges ever-so-finely crisped. It is served with creamed leaks, wild mushrooms and a carrot gastrique. The combination of savory and sweet is dangerously addictive.
A dish so perfect, it should be nominated for "Anguilla's dish of the year."
Towards the end of the meal, Chef Marc noted that the prix fixe menu would change again in the next couple of weeks. "Don't worry, though," he smiled, "the duck stays!" I breathed a sigh of relief. It is a winner of a dish.
Generous with portion size, by the time the evening was drawing to a close, we could barely take one more bite. Somehow, though, we found room 😉
The two favorite desserts of the evening?
Warm Banana Bread with Rum Raisin Ice Cream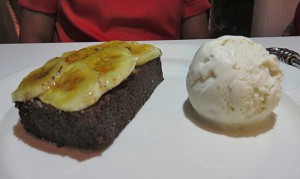 Moist, each bite of banana bread has a nice walnut-crunch. It pairs well with the decadent rum raisin ice cream.
Roasted Pineapple with Vanilla Gelato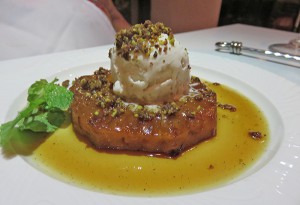 … a lighter choice, the pineapple is infused with basil and topped with a pistachio crumble.
A five star meal all around, Chef Marc's prix fixe is an absolute must. Don't miss the Magret Duck!
Covecastles Restaurant is open for lunch and dinner Monday-Saturday. To make a reservation, call: 264-497-6801