Quintessence Hotel is kicking off the New Year with two terrific specials!
First up? Bloody Mary Sundays!
From 12-3pm, Quintessence is serving up $5 Bloody Mary's!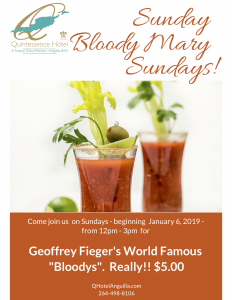 The specials continue on Mondays at 5pm with $5 Martini Mondays!
Pop in for one of the best martinis in Anguilla before settling into an haute cuisine dream meal at JULIAN'S.
For more information and to make a reservation at JULIAN'S, contact 264-498-8106.