The Anguilla Tennis Academy and its founder, Mr. Mitchelle Lake have profoundly changed the lives of many since the Anguilla Tennis Academy opened its doors in 1996.
Not only has Mr. Mitchelle Lake provided a wonderful outlet for children to engage in sports, the school also has a tremendous scholarship program.
The stories of achievement earned by these hard working students in 2018 are nothing short of incredible.
Join me in saying a big congratulations to Mr. Mitchelle Lake and his students, Nzingha Banks, Tamisha Richardson and Sabrina Connor on all of their success!
Nzingha Banks graduates with a Masters of Accounting in Advisory and Consulting from University of Kansas
One year after completing her Bachelor of Arts (BA) in Accounting & Finance at Washburn University, we again celebrate with Nzingha Banks as she graduates with her Masters of Accounting in Advisory & Consulting from the University of Kansas.
During her Masters of Accounting program at the University of Kansas, Nzingha was inducted into the Golden Key Honor Society while securing a 3.89 grade point average (GPA). She also worked as a business consultant for JayHawk Consulting. Additionally, she completed a Business and Culture in Latin America study abroad program at the Universidad de Costa Rica.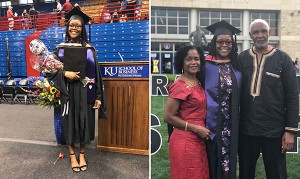 Nzingha completed her Masters of Accounting program in March, but she is not done! Currently, she is on track to become CPA qualified over the next few months. Nzingha is currently working on internships and gaining additional work experience.
Founder and President of the ATA, Mr. Mitchelle Lake stated, "I am proud of Nzingha and her outstanding accomplishments. She has been an exceptional leader and ambassador for the Anguilla Tennis Academy from her studies at Washburn University and now at the University of Kansas. I remain confident in her abilities and know that she will make a positive contribution in her Accounting career."
We take this opportunity to congratulate Nzingha Banks and her proud parents Dr. Phyllis Fleming-Banks and Mr. Ken Banks.
Tamisha Richardson Graduates with Honors, Summa Cum Laude
Tamisha enrolled at Virginia State University (VSU) on a tennis athletic scholarship January, 2015 and graduated with honors, summa cum laude on May 13th 2018 with a 3.9 cumulative grade point average (gpa). She now holds a Bachelors Degree in Health and Physical Education Recreation and Dance with a minor in Health Science.
Tamisha was Team Captain of the VSU Lady Trojans and completed her final tennis season with a win/loss record of 11-6 in singles and 14-3 in doubles. The VSU Lady Trojans also completed their tennis season with a record of 12-5 becoming the Central Intercollegiate Athletic Association (CIAA) Northern Division 2018 champions. Tamisha Richardson and three other tennis athletes were named to the 2018 All-CIAA Women's tennis team. In addition, Tamisha along with 21 other student-athletes that were selected for the Arthur Ashe Jr. Scholar Awards.
Tamisha Richardson is a proud member of the National Society of Leadership and Success Society, Golden Key International Society, and the VSU Honors Program. Her future plan is to complete a Masters degree in Health while pursuing her career goal in Physical Therapy.
Tamisha stated, " I could not have reached this far in life without God, my family, friends, colleagues, professors, coaches, and supporters. The Anguilla Tennis Academy (ATA) prepared me mentally and physically to endure my college years of being a student athlete. This was a rewarding experience as I was not only awarded a tennis scholarship to play college tennis, but I was able to show my talents and mature as a more confident individual. Thank you Coach Mitch, for seeing my talents at a young age and recognizing the potential I had to play tennis at the collegiate level. Many thanks to all the coaches that trained with me, advised me, and instructed me throughout my college tennis career. Thanks to my family, friends, colleagues, professors, teammates, supporters, and everyone for being there for me along my educational journey."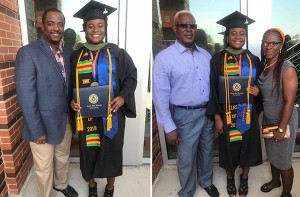 Founder and President of the ATA, Mr. Mitchelle Lake stated, " I am proud of Tamisha and all her academic and athletic achievements at Virginia State University. She has demonstrated over the past four years that success can be achieved through hard work, determination and commitment. I wish her continued success in her educational journey."