Anytime is a good time to be at Four Seasons' Sunset Lounge! This season they impressed us all over again!
Some personal favorite cocktails this past year at Sunset Lounge? The Berry Bliss, Cherry Bomb and the Sundown Elixir…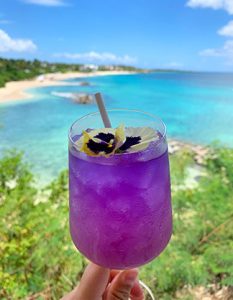 This photogenic, color changing cocktail is incredibly impressive. It is made with Absolut Elyx, sake, peach schnapps, St. Germaine, butterfly peach tea extract and lychee.
Another photogenic cocktail with a grand entrance…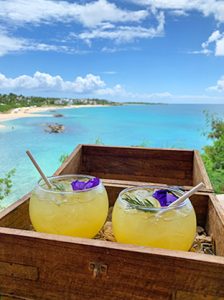 … The Treasure Chest. Two delightful cocktails are served in a posh wooden chest. When opened? A cloud of smoke emerges, revealing two picture-perfect cocktails.
When it comes to eats? Asian is the flavor of the day at Sunset Lounge, going hand-in-hand with the chic setting.
The first part of Sunset Lounge's menu is sushi-focused, with a number of specialty rolls, maki rolls, nigiri and sashimi pieces. The specialty rolls are decadent, including a shrimp tempura roll with agave chipotle aioli, soft shell crab with takuan and my favorites…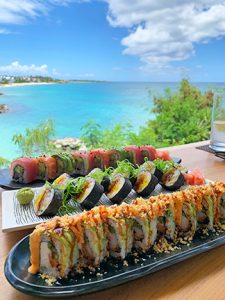 The Serpent is always the star of the day! Shrimp tempura, eel, crab, asparagus, avocado, agave chipotle aioli and kabayaki sauce all make an appearance in this roll. Each bite melts in your mouth with rich flavor.
The Herbie Roll is another excellent choice, perfect for vegetarians.
Next on the sushi train…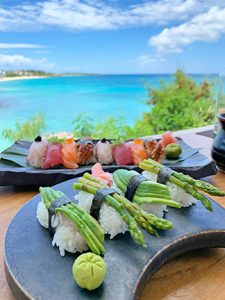 Sunset Lounge's sushi nigiri and vegetarian nigiri are show stoppers!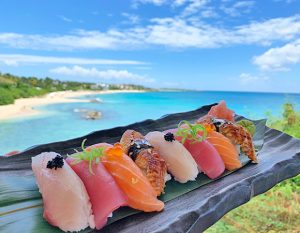 Yellowfin tuna, king salmon, yellow tail and fresh water eel all pair perfectly with that blue view of Barnes Bay 😉
Sunset Lounge's menu doesn't end there! Next? From the Buddha Bowl section…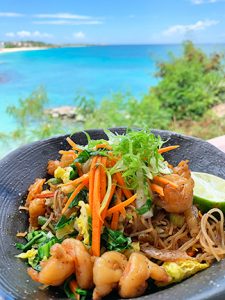 … The Nasi Goreng, a sumptuous bowl of shrimp, egg, scallions, leeks, sweet soy, sambal, chicken satay and a mixture of vegetables! With a squeeze of lime, this bowl is jam packed with flavor.
If it's rice you prefer? Sunset Lounge answers with a tasty bowl of shrimp fried rice!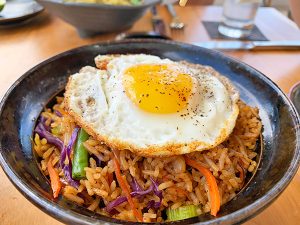 This stir fry is loaded with shrimp and veggies and topped with a beautiful sunny side up egg.
After a tasty and filling lunch? The Taro Sundae calls…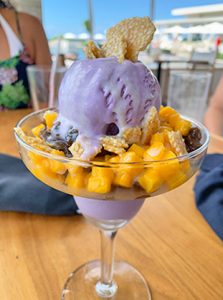 Black tapioca, crunchy black sesame seed candy and freshly cubed mango are oh-so cool and refreshing. This smooth and velvety sundae is the perfect dessert on a warm Anguilla day.
Sunset Lounge re-opens Oct. 17th. We can't wait to see what they have in store this coming year!