Anguilla is Great for Snorkeling
www.news.ai Site Map Click to enlarge pictures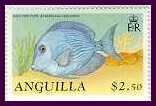 Snorkelling in Anguilla will introduce you to a wide variety of colorful tropical fish.
Equipment. You need a decent quality mask that fits, or you will always be getting water in it. Take the time to select one that fits snugly to your face. Hold the mask up to your face without the strap: breathe in slightly and the mask should hold to your face on its own. You can rent mask and snorkel here, but you can also buy them at any scuba shop at home for about $50 to $100. Forget the fins - they are hard to put on, hard to walk in, and not needed at most of our snorkel spots.
Preparation. When putting on the mask, ensure that you don't get any hair trapped around the edges -- this will create leaks. To avoid fogging, spit on the inside of your mask and rub it in, then wash in the ocean (there is also cleaner you can buy at dive shops that does the job better than spit). If you are a beginnner, practise with the mask only first - no snorkel. Just stand at the shore and duck your head in the water. Is it fitting properly? No water getting in? Tight enough but not so tight that it hurts? Now add the snorkel and practice breathing, but without trying to swim and look at the fish at the same time. If you have trouble breathing, just lift your head up out of the water. Practise until you don't think about the breathing anymore. Now you are ready to look at the fish and forget the snorkel.
Where to Snorkel? Good places to snorkel are on any reef or along the rocky shoreline at either end of any beach. Fish will gather anywhere that vegetation grows for them to feed on. Bad places: sandy, all white beaches. An excellent spot for beginners is the upper end of Shoal Bay where a small ledge of limestone attracts fish in only 2-4 feet of water and only a few feet from shore. Since the ledge is not coral, you don't have to worry about hurting yourself on it. The main reef at Shoal Bay is excellent: enter the water about 100 yards east of the Shoal Bay Villas, toward the point.
What if the water is murky? Any beach will occasionally have cloudy water due to storms, surf and wind. Don't worry - just go to the opposite side of the island and try another beach. For example, if Shoal Bay is stirred up, go to Sandy Hill Bay, which is only about 10 minutes away.
Things to Avoid. Watch out for sea urchins: black spiny things that look sharp and are sharp. Don't put your feet down until you are back over pure white sand. Don't touch the coral - it can leave a nasty scrape and your touch isn't good for it either! Try to relax and float stretched out--don't bunch up or pull your knees up or you may scrape against the coral. Don't go beyond the reefs to the deep water without a guide -- this is where the bigger creatures live.
Here is a posting to the Internet about good places to snorkel in Anguilla.

From: Roger Fenn
To: [email protected]
Date: Wed, 28 Oct 1998 20:06:14 -0500

Here are the some of the best snorkeling spots I remember from last January. There's a slight chance weather may have changed this, but these are somewhat stable coral heads: From most best to next best in order:

Sandy Hill Bay (indicated as SeaFeathers Bay on some maps):
From the Valley, take Long Path(Long Road) East from the Farrington toward East End. A few yards before the roundabout just beyond Caribbean Beacon take the dirt road which goes up a small hill by some houses and down, ending at Sandy Hill Bay Beach. Leave your car on the side of the road. Swim straight toward the opposite side of the Bay (East) You'll find little coral formations immediately in the sandy area, then at 25 to 40 yards out an interesting complex formation which we found teaming with all types of tropicals, some turtles, and more.

In the same area we've tried Mimi Bay and Sile Bay, I think Sile Bay had some amazingly large "Moose" Coral formations. The shortcoming the day we were there was the open water turbulence.

Junks Hole Bay:
Continue East from Sandy Hill toward Island Harbor, till you climb a small hill, then keep your eyes right for signs to the Palm Grove Restaurant (which is on the Beach at Junks Hole). Take a right off the main road and keep following signs to Palm Grove, which will ultimately be on your right again. Not far from the small parking area, head to your right down the beach a bit. Swim straight toward open water and you'll start crossing a generous formation of coral ridges and heads teaming with tropicals. You could spend hours dubbing around here. Make sure to enjoy the Palm Grove and say hi to Nat from me.

Island Harbor Beach:
There's parking at the small open beach on the harbor: To find coral, trace a swimming path along the water's edge to the right. There's a big broad formation across the harbor from the Beach in front of Harbor Lights apartments. Lots of interesting Fish, but this is a fairly shallow swim and can be testy if the water is rough

Shoal Bay Beach:
Easy to find, everyone goes there, even busloads sometimes. One of the best beaches on the island. To your left of "where the action is", there are some nice coral heads straight out and 8 to 12 ft. down.. Some are close to the Beach. If the water is calm, these can be really enjoyable to look down to.

Crocus Bay:
Take the road out of the Valley over the hill to Crocus Bay. Park at the Beach (plan to Eat at Roy's there when your done, they have a great Friday night Fish and Chips Special). The most interesting way to see underwater life here is by tracing on the right, cliffside of the bay. The further you go, the better it gets. Little Bay is right around the corner. There's a boatman who will take you there from the Crocus Bay Beach. Though I've never been there, I'm told it's really nice.

There are dozens more we've poked around and enjoyed, but these are our best for snorkeling.
Revised: 2001/11/25
More on Anguilla Snorkeling

---

Enter some keywords


Subscribe to the Anguilla News for faster information and bonuses: Click Here.