Junks Hole and Savannah Bay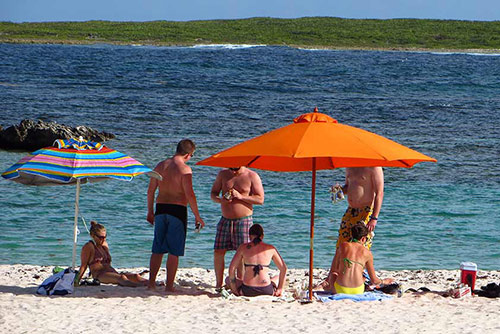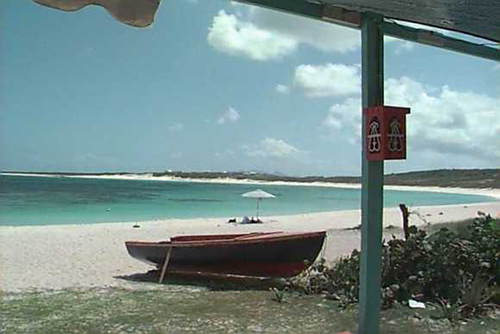 www.news.ai Site Map Click to enlarge pictures
Near the remote eastern end of Anguilla is a beautiful, long, curved bay with sand, snorkelling, palm trees, and one building, a fun beach bar, Palm Grove. The bay is called Savannah Bay and looks like it should have a five-star resort on it instead of being empty. The corner by Palm Grove is called Junks Hole (photo below was taken in 1998! Nat's looks almost the same now, though :-) ), because all the junk from the Atlantic washes in here (but now that Nat Richardson has a funky beach bar, he keeps the beach cleaned up). There isn't much natural shade, but Nat rents umbrellas if you need one.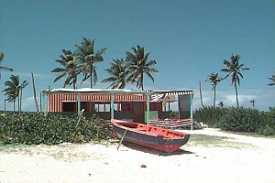 The bay is usually shallow and sandy along the shore, but strong weather can change the bay bottom. The swimming is excellent, but as with all Atlantic beaches, the currents and surf can be strong at certain times of the year. In summer 1998 the surf was often quite high and the currents could pull you to the east. My young nephews loved it, but a weak swimmer would be in trouble.
Snorkelling here can be very interesting. Start at Palm Grove and snorkel toward the offshore rock. Keep your eyes peeled for small Rays, they are beautiful and like sandy areas. You can swim out into the bay for a long ways and still stand up. The coral and fish get more interesting the further out you go. Last week Brennan Rego (a young visitor from Sun Valley, Idaho) spotted 3 sea cows blending into a coral formation. These look somewhat like 6 inch snails without shells, but they open up like Venus Fly traps if you bother them and can even spray a purple dye that is hard to get off.
Directions: There are several ways to get to Junks Hole. Since Palm Grove Bar has put up signs, it is very easy. From airport parking lot go straight past Island Car Rental and National Bank of Anguilla. At the lights take a right. Continue on that road past Proctor's, Best Buy and AARF. At the round-about, take the right. Continue on this road until you see the sign for Palm Grove. Follow that sign on a bumpy road. Follow that main bumpy road and take the right at the end of the road.
For more pictures of the area, see this report on Fishing for Jacks at Junks Hole.
Revised: September 20, 2013

---