Hidden Anguilla: Mimi Bay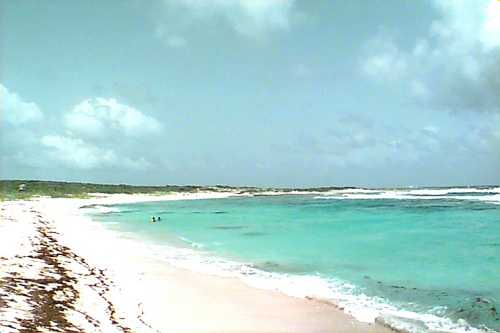 www.news.ai Site Map Click to enlarge pictures
Mimi Bay is a classic hidden spot in Anguilla--down the end of a long, obscure, dirt road, suddenly you come to a romantic beach, as in la swept away, wild and unspoiled. Mimi Bay is located on the southeastern shore, between Seafeathers Bay and Sile Bay, facing the open Atlantic, and therefore subject to high waves and currents at many times. I went swimming there, but the water was stirred up at the west end of the beach (as you can see in the picture below, the western side terminates suddenly at a rocky shore). As with all remote, beaches, do not go swimming alone unless the seas are very calm and you are a strong swimmer.
This is not a perfect crescent beach like Cove Bay, but it is remote and wild and fun. The closest house is almost a kilometer away. The size is nice - about 1/3 mile long - and the sand is nice. There are no services and no shade. A good place to commune with nature. By the time I got there down this unmarked dirt road, I thought I was an adventure explorer. But, to my surprise there were 5 other people also enjoying Mimi Bay!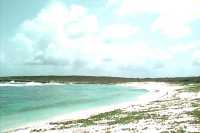 Directions: I recommend 4-wheel drive. Start in the airport parking lot which has only one exit. Turn left on Airport Road, go straight past Island Car Rentals, Anglec and turn right at the light by Albert Lake's Super Market. Follow this road through the Quarter and the Farrington. At the roundabout, take the right fork to Sandy Hill. In about a mile you will pass the East End Clinic on your right (with the East End Pond on your left). Take the next right on a paved road (if you reach the turn off for the Heritage Collection, you went too far). YOu go up a slight hill and take the first left on a dirt road. Follow that road for 1.1 KM to the coast, ignoring all tempting left forks and keeping to the right.
Revised: September 30, 1998

---