Hidden Anguilla: Sandy Hill Bay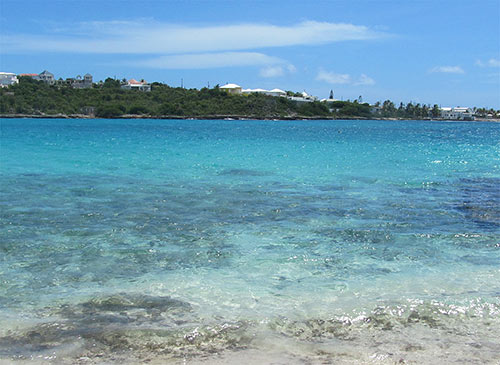 www.news.ai Site Map Click to enlarge pictures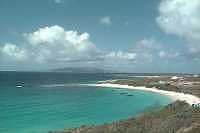 Between The Valley and Junks Hole at East End, there is a wonderful small beach with no restaurants, no hotels, and therefore no signs: Sandy Hill Bay. The protected anchorage provides safety for fish boats and the sandy beach provides gentle swimming for a few nearby residents. We had good snorkelling where the road meets the beach and continuing right toward the point--even saw a large turtle. The rocky shore to the east towards Sea Feathers also reportedly offers good snorkelling.
Sandy Hill, overlooking the bay, has several private residences and a police station at the site of the old fort where the militia finally held off the French troops in 1796. Good views of St Martin and St Barts. Click on the partial picture to the right for a full panoramic view (note: this was taken in 2003 - the number of villas have expanded since the photo was taken).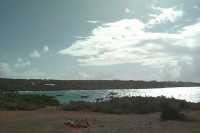 For more pictures, read about the Baptist Summer Camp for children, which was held at Sandy Hill in 2001.
There are several private villas along the hill that you can rent. For example, 18 Degrees North, Bird of Paradise, and Woburn Villa. As well, there is the Sandy Hill Club condo project.
Directions: Starting from the airport parking lot, go straight past Island Car Rentals and National Bank of Anguillla. Turn right at the traffic light toward the Farrington and East End Village. You will pass Proctor's Grocery store, then Tropical Flower Wholesale, then turn right on a dirt road just before the roundabout. You will see a sign for Sandy Hill Bay. Follow this road straight for a few hundred yards to Sandy Hill Bay beach.
Revised: 2013/9/20

---

Enter some keywords


Subscribe to the Anguilla News for faster information and bonuses: Click Here.