Hidden Anguilla: Sile Bay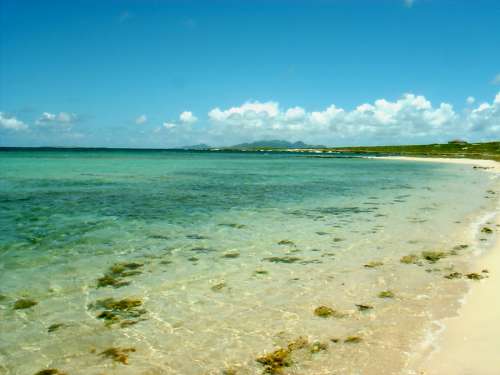 www.news.ai Site Map Click to enlarge pictures
Sile Bay is another one of Anguilla's apparently endless supply of remote and wonderful beaches. Sile Bay has two parts: the closer is a crescent of rock and the further is a longer crescent of sand. Located on the south shore of Anguilla, in the East End, between Mimi Bay and Savannah Bay, it has no shade, no services, no crowds--a Robinson Crusue beach!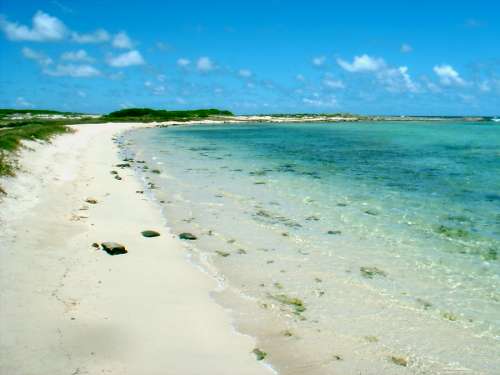 The two pictures above were sent to me recently by Mala Wigley; I took the pictures below in 1998 (click any of the pictures to see a larger view). Mala also mentions that Sile bay is one of the best locations for seeing Whales as they pass by close to shore in February and March; this is their normal route. Mala should know, as she has a villa at Sile Bay called Whale View which is for sale.
Frank & Dave from Savannah Gallery have a one bedroom Villa with pool overlooking Sile Bay and neighboring Savannah Bay called Windsong Villa. It looks like a great place to stay for a tranquil vacation. This is an unspoiled and undevelaoped area of Anguilla with great views to the south toward St Martin and St Barts.
The first beach at Sile Bay had lots of shells along the shore the last time I was there. I went in the water there, but I suggest you be careful not to fall on the slippery rocks as you enter.
Jibralta, a visitor who explored every beach in Anguilla, writes: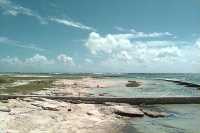 We had a wonderful time on the east side of Sile Bay, also a safe snorkel spot for wimps like me and Bean, and yes the rocks are slippery and do require shoes. There is NO need for a 4WD for Sile, just don't get stuck in the sand.
Separating the first and second beaches is an odd concrete structure of about 100 yards that effectively makes a giant children's wading pool!

I first explored Sile Bay because Joellen Samojla was trying to find a beach where she snorkelled years ago (1994) and saw hundreds of star fish. It wasn't Sile Bay, but we think it might have been Rendezvous Bay.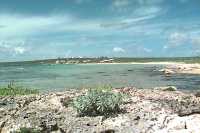 If you walk all the way to the point, you look back across the sandy curve and the rocky curve to the coast line.
Behind the sandy beach and all along the rocky point, there are tidal pools with interesting sea life. This is a good spot for exploring.
Directions: From airport parking lot, take the only exit and turn left on Airport Road. Drive straight past Island Car Rental and the National Bank of Anguilla, and turn right at the traffic light. Follow this road for several miles. At the roundabout, take the right fork over Sandy Hill and continue to the East End pond.
Take the second paved turn off after the East End Clinic in East End Village. The main road curves left around the pond and continues to Island Harbour, but you turn off at the sign for Heritage Collection, a museum worth visiting in its own right. Go up the hill to the museum and turn right just after it on another paved road, then take a left and go down the hill. At the bottom you bear right and switch to dirt through a sandy "bottom", with pond and palm trees to the left, then on to the southern coast, where the road dead ends at Sile Bay. The distance from Heritage Collection to Sile Bay is 0.6 KM.
Related Web Page: More hidden places in Anguilla.
Revised: 2004/11/7

---
Subscribe to the Anguilla News: Click Here.