Mala's Cottage: Roti Hut Reborn
From the Anguilla Local News - Site Map.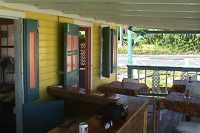 What is that quaint old-fashioned building in George Hill that has been repainted yellow with pink and turquois shutters? It is Mala's Cottage, a new enterprise by Heather James to provide Indian-vegetarian local dishes in the Caribbean style. Heather used to run the Roti Hut across the street in a grounded food truck, but she now has a dining room, a kitchen with glass viewing window, and porch with a full bar.
The menu is similar to the Roti Hut, but expanded. Each day the cook prepares main courses: Chicken, both boned and boneless, goat, Conch-seafood, and Biganee (vegetarian fish) and many vegetable dishes: Carnival rice, Curry potato, Curry Mango, and Steamed pumpkin. To place your order, you decide if you want a Roti-bake suitable for fast food/takeaway, or a more substantial meal plate. Roti bakes consist of one main course plus one vegetable in an Indian-style "tortilla". A meal plate consist of one entree plus two vegetables plus either rice or a side roti. Prices for Roti's are EC$10 to EC$14, full meals EC$15 or more, extra vegetables EC$1.50 each.
If you stop by, be sure to try the Fresh Local Fruit juices, made from whatever is in season. Heather had made papaya juice the day we visited - it was fantastic! US$2 small and $3 large.
Revised: February 01, 1998

---