Computer Club News
From the Anguilla Local News - Site Map.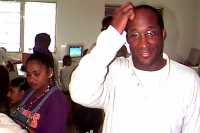 The Anguilla Library Computer Club is very active on the island.
Programming Course. The Computer Club, Public Data, and Offshore Information Services are sponsoring a course in Visual Basic programming, starting Monday, May 18th 1998 and lasting three weeks. Classes are Mon-Fri, 7-9 p.m. at the computer club. This is a great opportunity for people to learn a very valuable skill. Instructor Nowell Rogers (pictured here), has been off in the U.S where he studied programming and the basic language for about twelve years.
Cost of the class is US$100, which includes the textbook, Teach Yourself Visual Basic 5 in 24 hours. This book comes with a CD containing Visual Basic software. No programming experience is necessary to participate in this class. To register please call 497-8469.
New Computers for Schools. At the invitation of Larry Franklin of the Government Computer Unit, club members gathered on two Wednesday evenings to unpack 50 boxes of computers at the high school. These were donated by Mohawk College, courtesy of Gordon Cillis (ALHCS teacher in Canada for a year), and flown to Anguilla this winter in a Canadian Forces practice flight. But no one knew what was in the boxes! It was very exciting and we managed to get 25 computers working in 4 hours. Now the teacher's lounge at the high school has three computers in it for the first time ever. Of course the systems came loaded with Windows, but without a single mouse. So if you have a spare PS/2 mouse, drop it by the computer club on your next visit.
Summer Plans. For 1998 we plan to be open 5 hours per day, thanks to our latest volunteer, 33-yearold Business Professor Gaetano Di Palo of Italy. In response to our call for a free room for him, we had many offers from the community, including private homes and hoteliers at Cinammon Reef, Sonesta, Fountain Beach and La Sirena. So he should be able to live 2 weeks at each place, lightening the load on his hosts and allowing Gaetano to see all parts of Anguilla. The programs are still in the planning stage, but may include organized programs for children in the morning and business computer classes for adults in the evening.
Cool! Saving the best for last, the really big news is that the club has ordered an air conditioner. With 30 children and 15 computers running, our concrete building can get very hot. Plus we have to leave the windows open and the salt air eats up the computers. This big improvement was made possible by a very generous donation from one of the owners at CoveCastles.

Read earlier news of the club.
Revised: June 15, 1998
---