Computer Club News
From the Anguilla Local News - Site Map.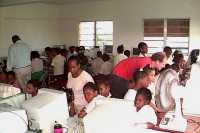 The Computer Club has been very active in its new location with training classes and installing computers. During the summer we ran a special children's program four mornings a week and a computer orientation class for women only.
At the invitation of the Mr. Elvet Hughes, the Chief Education Officer, we are helping to install PCs in the Primary Schools. They were donated by Mohawk College in Canada and delivered here by Canadian Forces training flight, all coordinated by Mr. Gordon Cillis. The Computer Club located educational software from the Internet that would run on a 360KB diskette, then unpacked, set up, and tested a batch of identical PCs. We wrote a short user manual and now we are delivering the computers to the schools. If anyone is interested in bringing a gift for the primary children, surge suppressors would be appreciated.

The club now has ten used Compaq 486sx/25 computers, but two of them came without enough memory to run Windows 95. In reply to our plea for help on the Anguilla Mailing List, we received generous donations of 72-pin memory SIMMs from Steve Donahue and from the Objective Observer. Thanks. We now have more computers than chairs. Recently we had over 20 computers running and 40 children sharing them. Of course, many are old PCs. We can't guarantee 20 computers every day. We hit a low in June when only three were working!
We are back to our semi-regular after school hours: Monday's for adults and older teenagers and Thursday's for children. At the Arts and Crafts Center next to the Library.

Read earlier news of the club.
Revised: June 15, 1998
---