Computer Club Now In Arts/Craft Center
www.news.ai Site Map Click to enlarge pictures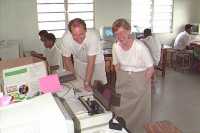 The Anguilla Library Computer Club has moved into larger quarters at the back of the Arts and Crafts Center, immediately to the right of the library. This room is 3 times the size of our old room in the National Trust building. On our first meeting in the new facility, Nancy Peace of Massachusetts dropped in with a Panasonic printer to donate. (Click the picture of her and Vince to see it larger.) And she brought ribbons, a manual, and some ideas on how to get it to work. With her help we were able to connect it to an old HP Vectra DOS system and start printing announcements and cards. While Nancy visited with us, her friend had a lesson from Miguel on designing a house on the computer.
Soon after we had a visit from Teacher Joanne Clark's second grade class at Linda Banks' Omolulu School here in Anguilla. The students practiced arithmetic skills in a version of Space Invaders, identified words in Word Rescue, made Mother's Day cards with our new printer, wrote short letters to the teacher in a word processor, and learned to type. Klaus, the photographer from Wired magazine, dropped in and took numerous pictures of the children. He was here to shoot photos for an upcoming article on the Financial Cryptography 97 conference.
Read the history of the club.
Revised: July 28, 1998
---