Circle Inn
From the Anguilla Local News - Site Map.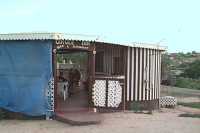 The rumours were right: there is a new, inexpensive, fun place to eat traditional local meals and it is run single-handedly by cook and businesswoman Sally. It is the open-air Circle Inn. I stopped in after Computer Club to pick up dinner: bbq chicken, cole slaw, potato salad, plus peas and rice.The chicken was moist and tangy even an hour later and the salads were delicious. Four dinners to go was EC $28 (less than US$11). And good too. Sally varies her menu, but often has lasagna, curry chicken, ribs, fish, and baked macaroni and cheese. You probably won't stumble on Sally's Circle Inn by accident.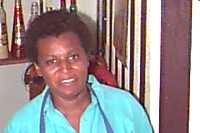 The Circle Inn is located up on Roches Hill overlooking The Valley, in a modest residential area. Turn up Coronation Blvd toward the baseball field and Crocus Hill. Turn right at the sign for Circle Inn after the beautiful stone Methodist church on the left. The road twists and turns, but there aren't any turn offs. Just follow the road until it makes its way to the top of the hill. There you will find the Circle Inn. I thought I was in completely alien territory, but I quickly ran into an electrician I know and Shamash, the chef at Zara's Restaraunt.
Feedback on Sally's Circle Inn. Donna Lambert reports:

My husband Bob and I read about Sally's Circle Inn in the Anguilla Local News before we visited Anguilla two weeks ago and we want to add our compliments on the fine service, food, and hospitality we received there. After finding the Inn, we ate there several times and were always pleased with the quality, price, and especially the portion-size! My husband has never cared for macaroni and cheese, but he loved Sally's version, and our last day there she was gracious enough to share her recipe with me. Thank you again, Sally!! The ribs, chicken, potato salad, lasagna, rice and peas, as well as the macaroni and cheese were all delicious.

This was our first trip to Anguilla and we want to thank everyone we contacted for their hospitality and tolerance. We got lost several times and people were always patient and kind in helping us find our way -- especially one young man who spent much time directing us to Little Bay. In any case this young man obviously knew his island and loved it very much -- a joy to see in one so young. We stayed at Milly's Inn on Shoal Bay and were very pleased with our accomodations. The beaches are wonderful, of course, and the weather perfect, but the kindness of the people we will remember as well.
Revised: March 28, 1998
---