Carnival Was Colourful, Fun and Loud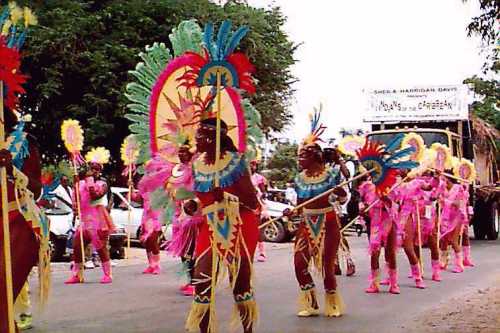 www.news.ai Site Map Click to enlarge pictures
Carnival Special Report: 12 days of music, boat racing, beach picnics, fireworks, street dancing, shows, contests, parading, children's games, and crafts. Now everyone needs a good rest. Carnival is the one time in Anguilla when almost no work gets done. It starts on Thursday night with an opening ceremony and a fireworks display, and for 1997 a visiting troupe of amazing street dancers from Philadelphia. It ends over a week later with Last Lap street jammin'.

July 31-August 11, 1997
Carnival week in Anguilla has so many activities that only an iron man or a twenty year old could attend them all. This report just gives the the flavour of Carnival week.


There are three types of event during Carnival week:
Boat races on almost every day, featuring traditional, open, handmade Anguillian sailboats.
Street dancing and the Parade of Troupes. No admission charge.
Shows and contests every night at Carnival Village. Most of these have an admission fee of $8 to $10 US.
Most "events" take place or start at the Carnival Village, which is Landsome Bowl located between Valley Primary School and Ashley's Supermarket. The Carnival Village has a stage for shows, seating on metal bleachers with seat backs, plenty of room for a standup crowd, and booths around the perimeter for food and drink.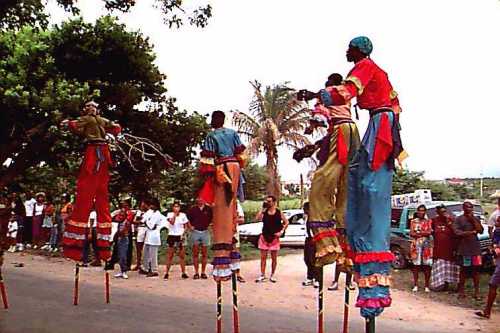 Click on any picture below to see it larger. Forgive the slow download for this news issue - the photo opportunities were irresistable.
J'Ouvert Morning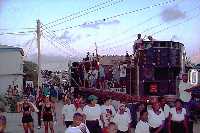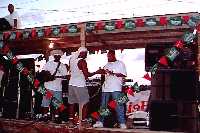 Monday Morning at sunrise is J'ouvert (zhu-vay), one of the most fun events of Carnival, one that is free and open to everyone. Three local bands on huge semi-truck trailers set out from Carnival Village, and gather following crowds of dancing fans. As you can see, each truck is a wall of amplifiers and the sound is incredible. Helpers ride on top with sticks to push up the telephone wires as the bands pass underneath. Suggested dress for serious dancers is runners and aerobics suit, with a hand towel to wipe away the sweat. Consider cotton balls for your ears (it can be loud).
J'ouvert started at 5:45am. By 7am The Valley is packed by dancers and onlookers. I even saw my summer student employee splayed out riding on the back of a band truck, ears right in the huge amplifiers. The bands do several loops through The Valley's main roads. Last Lap, the following Monday at sunset, is a similar event, except that everyone is more tired a week later and the action is wilder in the dark.
Boat Races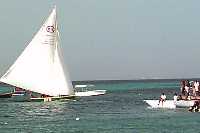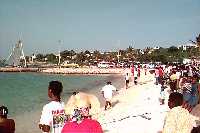 There are boat races almost every day, starting on Monday, when De Chan won the A class (these are the biggest and most important boats). Here is UFO sailing victorious into its home village of Island Harbour on Tuesday.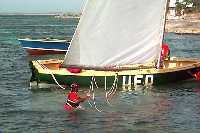 On Wednesday, Stinger was the winner and on Thursday at Meads Bay, UFO won again.
The Champion of Champions boat race is held at Sandy Ground on Sunday. The winners of all the previous Class A races gather for a final contest. A large crowd gathered on the beach to eat, drink, talk, gamble, play dominos and watch the start and finish of the race.
The first boat to touch the flag on a bouy in the middle of the harbour is the winner: today it was Light and Peace. The crowd was unusually quiet at the finish -- perhaps they had bet on another boat.
Parade of Troupes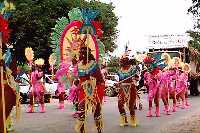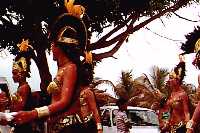 Hundreds of people in fancy costumes parade and dance to music, organzied into competing troupes. To start there are more troupe members than spectators, but as the troupes make their way around The Valley, the crowds grow. The winning troupe was organized by Sheila Harrigan Davis.
Naturally the winners of the Prince and Princess show (from the primary schools) are in the parade, plus Miss Talented Teen, the Carnival Queen, and the Calypso Monarch. This parade is great fun. It starts at the baseball field and goes up Coronation to Barclays Bank, then over Rey Hill to the Airport and back into The Valley.
There are about 6 or 7 troupes and they vary in size, style, and complexity of costume and presentation. There were even troupes of cute school children in home made costumes. Several of the troupes were accompanied by amplified bands on huge trucks. One troupe included colorful stilt walkers and another troupe was dressed all in Army fatigues!
Saturday afternoon is the Kids N'Karnival, a free entertainment for children in the Carnival Village. There were races, pony rides, crafts, art, a bouncing room and live entertainment.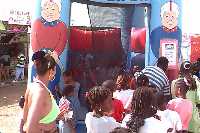 Entertainers
Lady Salsa, a group of 12 lady musicians from Cuba, performed on Sunday Night at Carnival Village, and again on Monday night at the Red Dragon Disco. Atlantik Show Band from Trinidad performed at the last show on Sunday night. Be warned. These shows are not for the weak. Sometimes the headline group doesn't even start until 3am.
Calypso Contest
Mighty Splinter won the Calypso Monarch crown again this year with his "Anguilla Must Rise Again". The big crowd loved it. All the seats were taken and people were standing 10 to 20 deep all around the area.

Calypso is recitative singing with a moral/political/social message, sort of a talking song or Caribbean rap. There isn't any Harry Belafonte singing "Day'O" or Calypso dancing. And it is a form of poetry much loved by West Indians.

During the calyspo contest, Sandy Ground was empty of locals. Johnnos just had a crowd of pale tourists waiting for the band to arrive. All the action was in The Valley that night. Sandy Ground is not going to liven up until the show in Carnival Village is over, which is seldom before 1am.
Contest Winners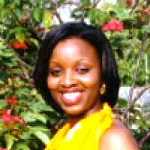 Prince and Princess: Jershema Morton and Rick Connor from Valley Primary School.
Junior Calypso Monarch: 16 year old Singing Zamie, otherwise known as Zamender Smith.
Primary Calypso winner: "Smallie", aka Jordelle Gumbs.
Miss Talented Teen: Hyacinth Snaggs.
Miss African Heritage: Janelle Richardson.
Miss Anguilla/Carnival Queen: Karen Ross (see picture).
Revised: June 30, 1998
---