Paul Ward, Volunteer In Paradise
From the Anguilla Local News - Site Map.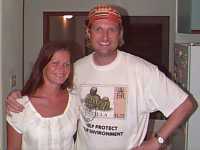 Paul Ward had a dream - to escape the dark, cold winters of Oslo, Norway on a warm, friendly tropical island. Paul is a Norwegian Computer Analyst with a Masters Degree from California. Paul volunteered to help out at the Anguilla Computer Club and the club found a room in a private home for Paul. For the eight weeks that he was here, the club was able to open five days a week and Paul taught a serious, small class every Tuesday night. Paul had a great time, helped many local children and adults learn to use the computer, improved his scuba diving and even put up a web page about his experience.
Upon return to Norway, Paul wrote "Good to be back, but I get tears in my eyes when I tell people about Anguilla." He plans to return next winter, and bring his Norwegian collegues with him. Now if the computer club can just find a computer analyst for July and August who wants to escape the oppresive summer heat of the eastern USA or the Australian winter!
Revised: April 02, 1998

---