Paradise Lounge & Restaurant
From the Anguilla Local News - Site Map.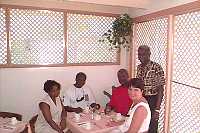 Anguilla has a new local restaurant that is highly recommended: Paradise Lounge & Restaurant. They serve breakfast lunch and dinner, with a choice of indoor airconditioned dining or a fresh air dining porch. We went for breakfast the other day and it was very professional, with good food, tasteful surroundings, fast service, and reasonable prices.
Proprieter and chef John Brooks (picture) ran a restaurant in US St. Thomas for many years. He came back to Anguilla on the death of his father and decided to move his business "home". Their motto is "Three Cs: Cleanliness, Classiness and Coziness".
The restaurant is also a good place to try some authentic Caribbean fare such as their Sunday Morning Brunch Special of Saltfish, Eggplant, Boiled Egg, Bagel and Bush Tea (local herbal tea) or Coffee. Telephone: 264-497-2242. Call for Take out orders.
Directions: In The Valley, turn at the stop light and go up Coronation Avenue toward Crocus Hill. Turn right after Public Works on a paved road, at the signs to North Side Village and Paradise Restaurant. You will find the restaurant in the same building as Norman B's Guest House.
For more adventure, continue on this road -- it is the back way to Shoal Bay through the bush, and passes Pitch Apple Hole the home of Anguilla's fossil giant rodent.
Paradise Menu - All Prices in US Dollars
| | |
| --- | --- |
| Breakfast | |
| Chilled Juice, sm. 1.00 lg. | 2.00 |
| Bagel w/Cream Cheese | 2.25 |
| Toasted English Muffin, Butter & Jelly | 1.50 |
| Pancakes | 3.50 |
| Pancakes w/Eggs Any Style | 4.95 |
| Pancakes w/Bacon, Ham or Sausage | 4.95 |
| Pancakes w/Eggs, Ham, Bacon or Sausage | 6.95 |
| French Toast | 3.50 |
| French Toast w/Eggs Any Style | 4.95 |
| French Toast w/Bacon, Ham or Sausage | 5.25 |
| French Toast w/Eggs, Ham, Bacon or Sausage | 6.95 |
| Mushroom Omelette | 4.75 |
| Cheese Omelette | 4.50 |
| Ham Omelette | 4.75 |
| Ham & Cheese Omelette | 5.00 |
| Bacon Omelette | 4.75 |
| Bacon & Cheese Omelette | 5.00 |
| | |
| --- | --- |
| More Breakfast | |
| Western Omelette w/Ham (peppers, onions, tomatoes, toast & jelly) | 5.50 |
| Vege Omelette (onion, mushrooms, tomatoes, peppers) | 5.00 |
| Sardine w/Eggs Any Style, Toast & Coffee | 5.00 |
| Sardine w/Eggs Any Style, Cream Cheese, Bagel, Coffee & Tea | 7.50 |
| Sliced Corned Beef Brisket w/Eggs Any Style, Coffee, Juice Toast & Jelly | 7.50 |
| Pastrami w/Eggs Any Style, Coffee, Juice, Toast & Jelly | 7.50 |
| New York Strip Steak w /Eggs Any Style, Tea or Coffee & sm Juice | 10.50 |
| Early Morning Riser Special. Two Eggs Any Style, Toast, Jelly. Coffee or Tea. 6:45 to 8am. | 3.00 |
| Breakfast Special. Two Eggs Any Style w/Bacon, Ham or Sausage. Coffee, Juice, Milk or Tea. 6:45-11:30am | $5.50 |
| | |
| --- | --- |
| Side Orders | |
| Bacon, Ham or Sausage | 1.50 |
| Hash Brown Potatoes | 1.50 |
| Corn Beef Hash | 1.95 |
| Coffee | 1.00 |
| Tea | 1.00 |
| Milk, Small | 1.00 |
| Milk Large | 1.50 |
| | |
| --- | --- |
| Lunch | |
| Salmon Salad Sandwich | 4.50 |
| Tuna Sandwich (lettuce & tomato) | 3.50 |
| BLT (bacon, lettuce & tomato) | 3.50 |
| Plain Egg Sandwich | 2.00 |
| Ham & Egg Sandwich | 3.50 |
| Ham, Egg & Cheese | 4.00 |
| Bacon & Egg | 3.50 |
| Grilled Cheese | 2.50 |
| Grilled Bacon & Cheese | 3.75 |
| Grilled Ham & Cheese | 3.75 |
| Hamburger (lettuce, tomato & onion on toasted bun) | 5.00 |
| Cheeseburger (lettuce, tomato & onion on toasted bun) | 5.50 |
Dinner
w/Rice&Peas, Baked Potato or French Fries & Veg)
Hamburger
7.00
Cheeseburger
7.50
Pastrami on White, Rye or Wheat
7.50
Corned Beef on White, Rye or Wheat
7.50
Roast Beef on White, Rye or Wheat
7.50
Turkey on White, Rye or Wheat
7.50
Club Sandwich
7.95
Tuna Sandwich
6.95
Grilled Cheese
6.50
Grilled Ham & Cheese
6.95
Ham & Egg
6.95
Breaded Fish Sandwich
6.95
Shrimp Salad Sandwich
7.95
Crab Meat Sandwich
7.95
| | |
| --- | --- |
| Salads and Entrees | |
| Chicken d'Paradise | 8.00 |
| Salmon Salad | 7.50 |
| Sauted Shrimp | 13.50 |
| Shrimp Salad | 8.95 |
| Crab Meat Salad | 8.95 |
| Tuna Salad | 7.95 |
| Chef Salad | 7.95 |
| Breaded Shrimp | 7.95 |
| Honey Dip Chicken | 7.95 |
| New York Strip Steak | 10.00 |
| Salmon Balls | 8.00 |
| Boiled Fish | 10.00+ |
| Stuffed Cray Fish | 14.95 |
Revised: May 03, 1998
---