Paradise Cove is Home Away From Home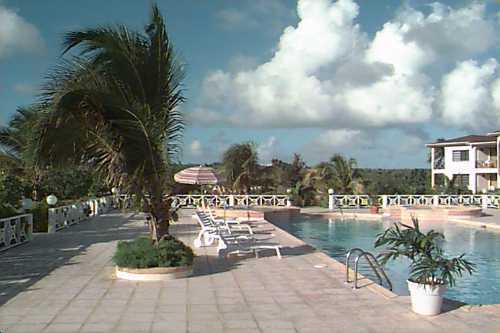 www.news.ai Site Map Click to enlarge pictures
Paradise Cove has such beautiful grounds that many parties and receptions are held around their pool. We asked Frankie Hughes how he created these lush gardens. First, he collected soil for 6 years and then used it sparingly. He dug holes in the solid rock for every bush, tree, and hedge.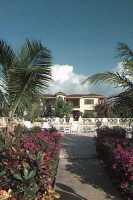 He hires good gardeners and when there is not enough rain, he brings in water with his trucks (his family also owns National Trucking: concrete, gravel, heavy equipment, etc.). Anguilla's sunshine does the rest. If you want to see what is possible in Anguilla for gardens, drop by Paradise Cove.
The resort is an intimate complex of air-conditioned apartments located in the West End near the other resorts and restaurants. One couple stayed at Sonesta and loved it, but chose Paradise Cove across the street for their next visit because they wanted their own kitchen. Being on the waterfront was not a priority for them - they preferred the space and the gardens. The closest beaches are west Rendezvous Bay (300 yards) and Cove Bay (500 yards) which is an incredible long curve of sand without a single hotel. And if you don't feel like cooking, Paradise has a snack bar for breakfast and lunch, or you can walk over to Sonesta.
Paradise Cove has a web site with more pictures and Internet Specials, such as $1345/week for a one bedroom apartment and a car in the off-season. By the way, their main web page shows the former director of the Anguilla National Trust, Liz Subin, posing by the pool (in Anguilla people do double-duty as a lot of functions). Email para-cove@anguillanet.com and telephone: 264-497-6603. If you decide to stay with them, please mention that you saw it in the Anguilla Local News--maybe we'll get a discount on the concrete we are buying to build our house in Anguilla. Revised: July 26, 1998

---