Opus II Villa
From the Anguilla Local News - Site Map.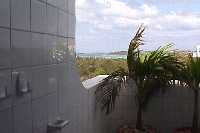 When you rent Opus II villa, you get a bonus -- Molly Goodnow as your private Anguilla consultant. Molly talks with her guests on the phone so that they are prepared for Anguilla. Then when they arrive, she has three binders of information garnered over years to guide them: restaurant menus and reviews, excursions, and background on the island. And the master bath has an outdoor shower with a view of the ocean (see picture).
Opus II is located in a neighborhood called "Sea Rocks", which is between Shoal Bay and Island Harbour -- sort of a United Nations enclave of luxurious homes owned by people from Britain, America, Canada, Greece, and Anguilla! The villa is fully appointed, including dinner setting for 12, because this is her home in Anguilla.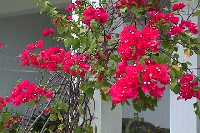 Read more about it on the Opus II web page. Or take a look inside. Or imagine sitting on the verandah for a late afternoon cocktail.
Rates: 2 bd $260 per day ($180 in off-season), 3bd $310 (or $210). Plus the normal 8% tax. Molly Goodnow, mgoodnow@top.monad.net 603-352-7568.
Revised: May 03, 1998

---