Mabel Gumbs and Her Corn Soup
From the Anguilla Local News - Site Map.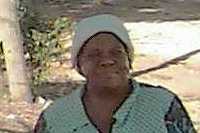 While driving our visitors around, we stopped for lunch in The Valley at a roadside stand. Turns out we had selected a famous stand run for years by Mabel Gumbs. Across from the National Trust Museum, Mabel Gumbs has a table on Saturdays, serving up bbq chicken, sweet potato pie, and her delicious corn soup.
Mabel told us the soup includes salt beef and pig tails. Our Canadian guests were skeptical about the pig tails, until Mabel pointed to an empty 5 gallon tin. Right on the label it said, "Pig Tails in brine -- Product of Canada." No wonder they had never heard of cooking with pig tails - Canada exports them all to Anguilla.

Mabel Wins Contest.
Mabel won the 1997 Culinary Competition in the Traditional Food category for her corn soup.
The next day we discovered an odd coincidence. The Winter/Spring 1996 issue of Anguilla Life magazine featured a profile on Mabel Gumbs and her soup on page 53. This is the special Hurricane Luis Report and is worth having for the before/after pictures.
Revised: December 13, 1997

---