Hardbroke Bar and Restaurant
From the Anguilla Local News - Site Map.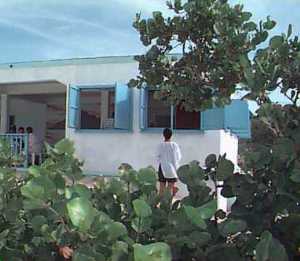 Hardbroke doesn't refer to your financial state, it refers to a reef that has broken many boats!
Anguilla is known for a wide variety of dining opportunities and famous Shoal Bay now has seven restaurants sprinkled from one end to the other. Campbell has opened his new Hardbroke Bar and Restaurant just to the west of Uncle Ernie's to replace the Round Rock that was damaged in Luis.
This is right on the sand, with tables on the beach if you like, at a quieter spot than Uncle Ernies. And they have live music on most Sunday afternoons and evenings, sometimes with quite a crowd dancing.
Although they specialize in local favorites like chicken and ribs, the first time we tried it we had three enornmous lobsters. Crayfish is also on the menu, when available. Our plates come with generous Anguillian-sized portions of fries, coleslaw, rice and peas.
When coming down the hill into Shoal Bay, take the turn to the left at their sign, then a right turn in about 200 yards. This is a local place worth trying out.
Dumpa at Shoal Bay.
There is great Caribbean music from Dumpa and Anvibes on Sunday nights at Hardbroke. Dumpa plays the steel pan and is backed up by the Anvibes on drums, guitar, keyboard, bass and vocals. They attracts a local crowd of all ages from children to great grandmothers, and they all dance to his West Indian, Country and Pop tunes. Music volume is reasonable and you don't have to stay up to midnight waiting for the action. The crowd had already filled the dance floor when we dropped in at 7PM and was still cooking when we left at 10PM. Highly recommended entertainment. December 1997
Revised: December 13, 1997

---