Debate Team Wins Again
From the Anguilla Local News - Site Map.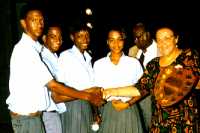 After months of preparation and practice, the Anguilla high school debate team travelled to Antigua and has returned victorious. The Anguilla team of Tara Carter, Damien Harrigan, Kishma Bryan and Marlon Lake was travelled to Antigua with their principal Rodney Rey, teachers Sharon Richardson and Curtis Richardson, and many supporters.
The Leeward Island Debating Competition was once again of a high standard and very successful. The contestants were the pick of the English-speaking Caribbean's students, the future lawyers of the region.
On Night One, Anguilla defeated Nevis - topic - The Internet should be regulated.
On Night Two, St. Kitts defeated Antigua - topic - CAPE is a step in the right direction.
On Night Three, Anguilla defeated St. Kitts in the finals - The main reason for the decline in West Indies Cricket is that West Indians no longer understand the political importance of the game.
The overall best speaker was awarded to Tara Carter of Anguilla. This was the Anguilla team's third win in the competition (including last years contest here on the island), and they look forward to next year's competition in St. Kitts. They would also like to publicly thank everyone who donated to their trip and helped with their coaching.
Revised: April 15, 1998

---