Covecastles After a Hard Day on the Beach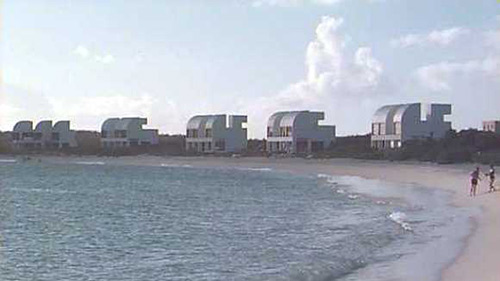 From the Anguilla Local News - Site Map.
Anguilla has two Shoal Bays -- and both have "shoals" or reefs-- Shoal Bay East gets all the publicity, but Shoal Bay West is a perfect, crescent shaped beach at the West End of the island. It is quiet, with a beautiful view of St. Martin, and a long arch of Anguilla sand. On it you will find one private home, and one small apartment resort, Blue Waters, but the primary thing you will notice are the distinctive modern villas of Covecastles. Jon Whiteman wrote to me about Covecastles on May 29th:
Returned from my second trip Anguilla this year. Stayed at Covecastles and loved it. Plan on coming down again in August to get married, and have reserved a fourth 10-day stay starting right after Christmas.
And Covecastles has a tiny restaurant with a new chef who is making waves and sending diners into ecstacy. I haven't tried him yet, but Kitty Shumlin whose most recent visit to Anguilla was terminated by a terrible auto accident on the last day, still found time to send me the following recommendation while she was recuperating:
Next time you write about a restaurant you should look at the tiny operation at Covecastles.There are many fine restaurants on Anguilla but here we had the best meal ever. The chef is the key and he is from l'Aureole in New York and is out of this world. We had a reservation there for our last night in Anguilla and did not quite make it!
Mark Boyer was so excited by the meals at Covecastles that he posted a glowing report at two sites on the Internet (here and here):
Covecastles has jumped to the top of our list. Their new chef is in a class by himself. The food was better than most of the meals I've had in Boston and New York in the last year. The menu is truly distinctive, and the chef does some great daily specials if he has the time. I had a potato-crusted snapper that was unquestionably the best meal I've ever had on Anguilla. We were there twice, and each time was excellent. I won't go into detailed course descriptions, but I urge any serious restaurant-goes to give Covecastles a try. Be forewarned: reservations are limited subject to the number of villa guests in residence at any given time. We had to wait four days to get in the first time.
Covecastles is running a Summer Dream Special: five nights with daily breakfast served in your one bedroom beach house, plus one of the fantastic dinners, for $2250/couple, including the 18% tax and service charge. Telephone: 264-497-6801. Fax 6051. Revised: December 29, 1997

---