Government Buildings Under Construction
From the Anguilla Local News - Site Map.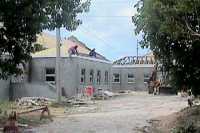 New public buildings are going up in Anguilla this year at a fantastic pace. Work on two major projects is ahead of schedule and due to be completed before the end of 1998. These buildings are near the old police headquarters and the National Bank of Anguilla.
The new Courthouse and Parliamentary building (first picture to the right) is being constructed by Oliver Brooks, from a design by architect David Kenworthy. Oliver says that things are going well on the 11,600 sq ft building, which will provide an air conditioned setting for the House of Assembly, the courts, and judge's chambers, holding cells, etc.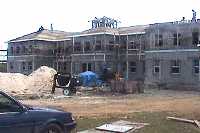 The second project is the new Police Headquarters, a large two story complex next door to the existing Secretariat (second picture to the right). The project manager is Gareth Orchard, of local firm Orchard, Romney, Beck and Associates and the architect was David Brazier. When finished it will provide Anguilla with all the modern police facilities, including training facilities and a secure intelligence area on the floor.
Revised: April 04, 1998

---