Cap Juluca Fans Strike Back
www.news.ai Site Map Click to enlarge pictures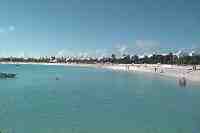 Almost immediately after a critical review of Cap Juluca appeared in the Wall Street Journal, numerous guests jumped to the defense of the resort. You can't read the article on the WSJ web site, but you can read the comments about it that were posted to the Anguilla Tête-à-Tête forum by visitors who had just returned from Cap Juluca:
"I have just come back from spending 2 weeks at Cap Juluca and I was also there in December. The WSJ article was completely disgusting and obviously not representative of the fair kind of journalism we expect the WSJ to display. Sitting on the most beautiful, white powder soft sand and reading an article that said there was no beach, was totally humourous to me and all of the other guests at the hotel. The rooms are incredible as well as the food at both restaurants. I am a well seasoned, 5 star traveler and have already booked my next trip to Cap Juluca for August."
A few days later a worried honeymoon couple asked "We have paid in full for 2 weeks. Yikes! We've also heard about the article from The Wall Street Journal." Again, knowledgeable, recent guests posted replies such as "Just back from Cap today. I can't imagine a better place exists. Go and enjoy and read the WSJ for stock quotes and news!".
This shows the power of the Internet to instantly respond to inaccurate information. Read our followup photo article about Cap Juluca.
Revised: July 10, 19100

---