Tasty's
www.news.ai Site Map Click to enlarge pictures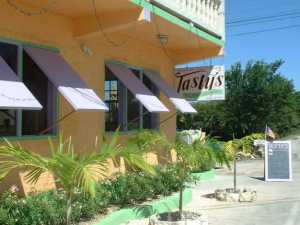 Tasty's is a delightful little spot which serves indigenous Anguillian cuisine with a European flair.
Owner and Executive Chef Dale Carty has had 13 years experience in the culinary field moving up the ranks from dishwashing at Malliouhana Hotel to opening and running his very own popular restaurant known for excellent cuisine. Chef Carty has had the benefit of training in the South of France and Paris under renowned French Chef Michel Rustang.
A glance at a couple items on the menu:
Breakfast
Fried fish and johnny cakes served with bush tea US$10.
Other breakfast choices include French toast, pancakes, omelette, eggs, bacon, fruit, salmon, bagels and cream cheese.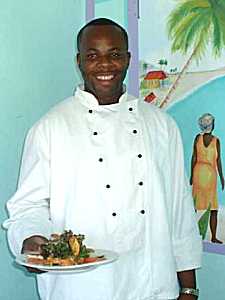 Lunch
Marinated conch salad US$9
Grilled or steamed whole snapper with fungi and provisions US$16
Dinner
Appetizers:
Exotic lobster salad US$13
Warm goat cheese with roasted bell pepper salad US$9
Entrées:
Trigger fish in island-flavoured sauce with sweet potatoes and spiced rice US$16
Spicy West Indian curried goat meet served with rice and peas US$14


Tasty's serves breakfast, lunch and dinner six days a week…from Tuesday to Sunday. Tasty's is open for breakfast and lunch from 7am - 3pm and dinner is served between 7pm and 10pm. Read our previous review from 1999.

Telephone: 264.497.2737. Email: chefcarty@anguillanet.com

Directions: on the main road near the Methodist Church in South Hill. From the airport parking lot, take the only exit and turn left, then left again past the airport entrance and through the roundabout down the main road. Continue west, straight through the Sandy Ground roundabout and watch for Tasty's on the right side in about a mile.

Snapper and Papaya Salad
Courtesy: Chef Dale Carty
Grilled snapper strips on a bed of papaya salsa topped with house greens and vinaigrette dressing.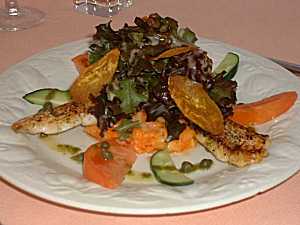 For papaya salsa
1 medium-ripe papaya
1 vine ripe tomato
For snapper
2 fillets of snapper
Dash of salt and pepper
1 spoon of chopped capers
2 pegs of garlic - chopped
Dressing
1/2 cup cherry vinegar
1 cup olive oil
2 spoons mustard
Chopped parsley thyme and basil
Cut snapper in strips, season with salt, pepper, chopped capers and garlic. Pan-fry the fish strips - skin-side only. Finish snapper in oven until tender. Peel and finely dice papayas. Combine dressing ingredients and add it to papaya. Place papaya in a circular mound in the middle of the plate. Top papaya salsa with fresh lettuce. Dice tomato. Place snapper slices and tomato slices in a circular design around the papaya/lettuce.
Story and pictures by Janine Edwards
Revised: 2002/2/1
---

Enter some keywords


Subscribe to the Anguilla News for faster information and bonuses: Click Here.