Tasty's Cafe
www.news.ai Site Map Click to enlarge pictures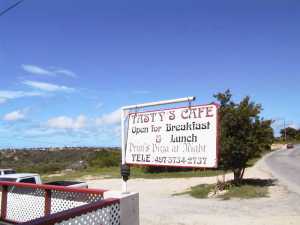 Are you looking for a special local restaurant that has delicious food, low prices, and is clean with pleasant surroundings? You're in luck. Try Tasty's Cafe on the main road in South Hill.
Not only is the menu interesting, but Chef Dale Carty offers daily specials, such as Snapper Creole filet, Wrapped Herb Snapper, and Pot Fish Sandwich, or West Indian Curry Goat and Grandma's Stew Chicken (remember, Dale works as one of the chefs at Malliouhana Hotel). Only open for breakfast and lunch, but they serve Starbucks coffee!
Open 7 days a week, 7:30am to 3:00pm.
Telephone: 1-264-497-2737.
Email: chefcarty@anguillanet.com
Directions: on the main road near the Methodist Church in South Hill. From the airport parking lot, take the only exit and turn left, then left again past the airport entrance and through the roundabout down the main road. Continue west, straight through the Sandy Ground roundabout and watch for Tasty's on the right side in about a mile.

Tasty's Breakfast Menu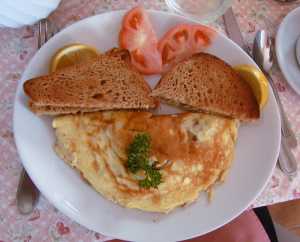 Grand Marnier French Toast with sliced fruit $6.50

Pancakes and Sausage with Maple Syrup $5.00

Homemade Roll Basket $3.50

Omelette (A choice of Cheese, Spicy Vegetables, Mushrooms, Bacon, Ham) $4.00

Omelette with Cheese, Peppers, Onions, Tomatoes and local Herbs $5.00

Expresso $2.00 * Starbuck's Coffee $2.00 * Tea $2.00

Fruit Salad $3.50 * Fruit Juices $1.50 * Milk $1.50
Tasty's Lunch Menu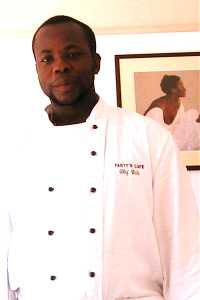 Soup of the Day $3.00

Chicken Caesar Salad $6.50 * Chicken Sandwich $5.00

Tuna with Melted Cheese Sandwich $4.50

Pot Fish Sandwich $4.00

Hamburger $4.00 * Cheeseburger $5.00

Veggie Burger $5.00

Spaghetti Bolognese $6.50 * Spicy Vegetable Pasta $5.00

Seafood Pasta $6.00

Jumbo Wings $6.50 * Chicken and Chips $7.00

Fish and Chips $7.00

All sandwiches and burgers served with Fries.

Dessert of the Day $2.00

Cheesecake $3.00

Assorted Ice Creams $2.00

All Prices are quoted in U.S. Dollars
Tasty's Cafe does not normally serve dinner. Instead the business converts over to Prim's Pizza under separate management.
Prim's sells pizza by the pie or the slice (EC$4/US1.50 per slice). The Full House Special Pizza is EC$20/US$7.50. A basic cheese pizza varies from EC$12/US$4.50 for 10" to EC$27/US$10 for 18". They have every kind of topping at an extra charge of EC$0.50/US$0.20 for olives to EC$5/US$2 for Lobster.
Revised: November 07, 1999

---