Slick Is On His Way, If...
www.news.ai Site Map Click to enlarge pictures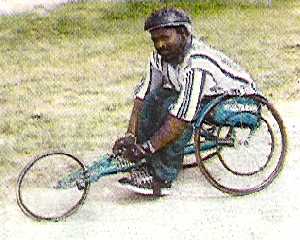 Euclid "Slick" Carty is a 38-year old Anguillian with a special dream. He plans to represent Anguilla at the Paralympic Games in Sydney, Australia in 2000.
Wheelchair bound since an automobile accident thirteen years ago, Slick has never considered himself a cripple. He's married, works full time in the vehicle inspection department and has always worked out to maintain his physical fitness. A "Send Slick" fund-raising campaigned has been underway since April 1999 and has raised $11,000 so far. Local businesses, individuals and visitors have been very supportive. Slick used these funds to purchase a special sprinting wheelchair, a tennis wheelchair, and a replacement for his regular wheelchair -the only one he has every owned!
Now as his training in preparation for the Paralympic 2000 games moves into into high gear, Slick's training program includes working out at Hayden Hughe's Dungeon Gym three times a week, and tennis practice with coach Eric Westcott at Cap Juluca on Wednesdays and Thursdays. On Saturdays and Sundays you may spot Slick doing road work in his special racing wheelchair between South Hill and West End, accompanied by his supportive wife Diana, or his brother Twidy. Since Anguilla has no proper track, all Slick's practicing to date has been on our open roads. You can get more information on Slick at his web site: slick.ai
With the help of Judy Myers of the Australian Community Sports Development Program, Chris Nunn, head coach of the Australian Paralympic Athletics, has agreed to coach Slick. Formal application has been made for him to train with the Australian team in Australia in January 2000. The Anguilla Department of Sports is working closely with Slick to facilitate arrangements. Sponsorship is also needed to pay the costs of his competing in various international lead-up events.
What Slick really needs is 3 or 4 Corporate Sponsors. Anyone who is interested, or has ideas, questions, suggestions, can email to [email protected] and will receive a prompt reply. Or you can call Judith Sadler-Bryan at 1-264-497-5559 (cellular works better, 1-264-235-7685). Or just wire your donation to account 7552771 at the Caribbean Commercial Bank.
Revised: November 07, 1999

---