Serenity on Upper Shoal Bay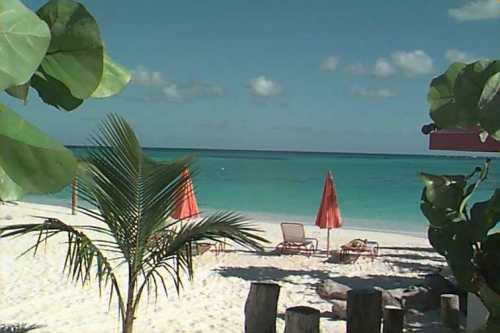 www.news.ai Site Map Click to enlarge pictures
The eastern end of Shoal Bay beach has a serene place to laze on the sand, snorkel, sip a cool drink, and have a meal.

Jan 21, 2000:
Dumpa is playing at the full moon beach bash.

April 1999:
Serenity has a special event every full moon, a moonlight madness after-dinner party on the beach. Last night, Friday April 30, was this month's event. A large crowd appeared for dinner between 7 and 8, and Kingsley started playing very danceable West Indian tunes about 9. It was great to sip a cool drink with friends around a table on the sand, then dance to a few songs, walk the gentle beach, snack on the complimentary hors d'ourveres, and stare at the full moon. 1-264-497-3328.
At Serenity Restaurant you will probably be greeted by Petra, the charming petite hostess. Or by Ken Rogers, the owner, who also owns The Old House Restaurant in George Hill.
Serenity offers:
Breakfast (see menu below)
Lunch and dinner (see menus below)
Beach chairs and umbrelles and shaded tables
Open 8AM to 10PM daily
Phone 1-264-497-3328
Directions: starting from the airport parking lot, take the only exit and turn left, continue straight past Island Car Rental, National Bank and Alberts Supermarket. Pass through Stoney Ground and Little Dix village and turn left on a paved road in about 2 miles (just past The Shop, a cute oldfashioned landmark). Take this road north over the hills and down into Shoal Bay. Near the bottom of the hill there is an intersection where you turn right (there should be signs for Serenity and Allamanda). Continue on this gravel road about 1/2 mile to Upper Shoal Bay and Serenity.
All prices in US dollars. 10% service charge is added
Serenity Dinner Menu Dec 97
Appetizers
Salads
Soup Du Jour ... 4.95
Shrimp Cocktail ... 12.95
Lobster Cocktail ... 12.95
Sardine a la Rouse ... 5.95
Tuna Deluxe ... 5.95
Macaroni Salad ... 4.95
Tossed Salad ... 5.95
Cole Slaw ... 4.95
Potato Salad ... 4.95
Caesar Salad ... 8.95
Avocado Salad ... 5.95
Serenity Omelet ... 11.95
You can add whatever you wish at extra cost.
Fresh Seafood
From the Grill or Steamed in Upper Bay Sauce
Fresh Grouper Filet ... 17.95
Fresh Snapper Fillet ... 17.95
Fresh Whole Snapper ... 15.95
Fresh Whole Pot Luck ... 14.95
Fresh Lobster Grilled ... Market Price
Fresh Crayfish Grilled ... Market Price
Lobster and Crayfish served with Drawn butter, Lemon, Garlic and Tarragon
Shrimp Grilled or Sauted in Lemon Butter Garlic and Parsley Sauce ... 19.95

All served with Vegatable of the Day, Rice or Potato

Poultry

Half Chicken Grilled or Deep Fried ... 15.95
Breast of Chicken (Boneless breast of chicken grilled and brushed with Serene BBQ sauce.) ... 18.95
Chicken Breast Serene (Boneless Breast of chicken grilled and served with Chef's special Orange Sauce) ... 18.95

All served with Vegetable of the day, Rice or Potato

Beef Charbroiled

Strip Steak (10 oz.) ... 18.95
Fillet Mignon (Tenderloin 8 oz.) ... 19.95
Spring Lamb Chops (Two 5 oz. lamb chops grilled and served with mint jelly) ... 19.95
Pork Chops (2 lean center cut chops grilled and served with Apple Sauce) ... 17.95

All cooked to order and served with Vegetable of the day, Rice or Potato
Serenity Lunch Menu Dec 97
Appetizers
Salad Platters
Soup Du Jour ... 4.95
Shrimp Cocktail ... 12.95
Tossed Salad ... 5.95
Avocado Salad ... 5.95

Serenity Omelet ... 9.95

Serenity Chef Salad ... 10.95
Fruit Salad Platter ... 12.95
Chilled Seafood Platter
(Lobster and Tuna on a bed of fresh lettuce, garnished with Bermuda onions, Cucumbers, Basil and Fresh Fruit) ... 13.95
Fresh Seafood
From the Grill or Steamed in Upper Bay Sauce
Fresh Snapper/Grouper Fillets ... 16.95
Fresh Whole Snapper ... 16.95
Fresh Whole Pot Luck ... 14.95
Fresh Lobster Grilled ... Market Price
Fresh Crayfish Grilled ... Market Price
Lobster and Crayfish served with Drawn butter, Lemon, Garlic and Tarragon
Shrimp Grilled or Sauted in Lemon Butter Garlic and Parsley Sauce ... 19.95

All served with Rice or French Fries, Macaroni Salad, Potato Salad or Cole Slaw

Poultry

Half Chicken Grilled or Deep Fried ... 15.95
Jumbo Leg Grilled or Deep Fried ... 7.95

All served with French Fries or Rice, Potato Salad or Cole Slaw

Beef Charbroiled

Strip Steak ... 18.95
Fillet Mignon ... 19.95


All served with Rice or French Fries, Macaroni Salad, Potato Salad or Cole Slaw

Serenity Burger A Ground Beef Patty Grilled and Brushed with Serene Barbecue Sauce with melted cheese, served with French Fries and Cole Slaw. ... 9.95

Cheese Burger (Swiss or American) ... 6.95
Hamburger .. 5.95
Upper Bay Dog (Beef Frank wrapped in Cheese and Bacon and Grilled) ... 5.95

All served with Potato Salad, Macaroni Salad or Cole Slaw.

Barbecue Ribs Rolled in Serene Barbecue Sauce ... 9.95
Sandwiches (Grilled or Plain)

Lobster Salad ... 11.95
Tuna Salad ... 8.95
Club ... 8.95
Ham and Cheese ... 6.95
Turkey ... 6.95
(All served with Macaroni Salad, Potato Salad or Cole Slaw)
Serenity Breakfast Menu Dec 97
Chef's Specials
Baked Eggs in Tomato Shells ...8.95
with Ham, Bacon or Sausage ... 9.95
Eggs Benedict ... 8.95
with Ham, Bacon or Sausage ... 9.95
Serenity Specials
Choice of Juice, Croissant, Coffee or Tea ... 5.95
Pancakes or French Toast, Choice of Juice, Coffee or Tea ... 7.95
with Ham, Bacon or Sausage ... 8.95
Eggs any style, Choice of Juice, Coffee or Tea ... 7.95
with Ham, Bacon or Sausage ... 8.95
Ala Carte
Fruit Fair
Toast ... 2.25
Croissant ... 2.95
2 Eggs with Toast ... 5.95
French Toast ... 5.95
Pancakes ... 5.95
Serenity Omelet ... 9.95
Fresh sliced Pineapple ... 4.95
Half Grapefruit ... 3.95
Fresh Fruit Cup ... 5.95
Fresh Fruit Platter ... 11.95

Side Orders
Ham, Bacon or Sausage ... 2.95
Hash Browns ... 2.95
Revised: 2000/1/20
---