The Old House Restaurant
www.news.ai Site Map Click to enlarge pictures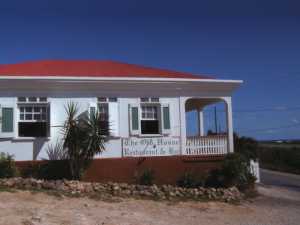 The Old House restaurant in George Hill has been a civilized place to have breakfast, lunch or dinner since 1985. Located in a classic Anguillian building that has been lovingly restored, sited on a small rise with a view of the airport (don't worry about the noise, there are only a few flights a day!). Open all day and convenient to The Valley, this is a prime place to see people having efficient business meals or leisurely breakfast.
Telephone: 1-264-497-2228. Open 7am to 10pm.
All prices in US dollars. Happy hour 5-6pm daily (reduced prices, hor d'oeuvres).
Directions: Starting in the airport parking lot, take the only exit and turn left, then left again and past the airport entrance, straight through the roundabout and watch for The Old House on the right.
Below is the Old House menu from December 1999.
---
Breakfast Menu
Orange - Pineapple............small 3.00

Grapefruit - Tomato............. large 4.00

Hot Coffee..........................2.00

Hot Tea...............................2.00

Danish Pastry....................3.25

English Muffin....................2.50

Toast..................................2.50
FRESH FRUIT
Half a Grapefruit...................4.25

Slice Pineapple....................5.25

Fruit Cup.............................6.95

Fruit Platter..........................13.95
Breakfast Favorites
French Toast.......................6.50

Pancakes............................6.50

Eggs (any style with toast).....6.50

Omelets (plain)......................6.50

(filling of your choice - additional)
SIDE ORDERS:
Hash Brown Potatoes.................3.50
Ham, Bacon, Sausage................3.50
BREAKFAST SPECIALS
A. Choice of Juice Toast with Jelly Coffee or Tea 6.50

B. Choice of Juice Fresh Fruit Coffee or Tea 9.95

C. Choice of Juice French Toast or Pancakes Coffee or Tea 8.95

D. Choice of Juice Two Eggs any Style With Toast Coffee or Tea 8.95

E. Choice of Juice Pancakes (Banana, Strawberry, Blueberry, Banberry) Coffee or Tea 9.95
Add Ham, Bacon or Sausage 10.95

F. Choice of Juice Pancakes or French Toast with Ham, Bacon, or Sausage Coffee or Tea 9.95

G. Choice of Juice Two Eggs any Style Ham, Bacon or Sausage Coffee or Tea 9.95
SUMPTIOUS SPECIALS
(1) Choice of Juice (Large) Strip Steak / Hash Brown & Eggs, Toast Coffee or Tea 19.95

(2) Choice of Juice Pan Fried Pot Fish w/ Hash Brown, Rolls Coffee or Tea 19.95
Ask About Sunday Breakfast Special
---
APPETIZERS
Anguillian Starters (SPICY)
Conch...................................7.50

Whelks..................................8.50

Curry Goat.............................7.50
Asparagus Old House..............6.95
Avocado Vinaigrette.................6.50
Soup Du Jour..........................5.50
Fish Chowder..........................6.50
Conch Fritters..........................8.50
Fish Fingers.............................6.50
SALADS
Tossed Salad...................6.95

Cole Slaw........................4.50

Potato Salad...................4.50
LIGHT LUNCHER
Soup du Jour / Salad Rolls & Butter................10.95
OLD HOUSE OMELET
w/ ham, cheese & herbs 10.95
COLD PLATTERS
Old House Cold Meat Platter............13.95
(Rolled baked ham, turkey breast, tender roast beef, cheese, w/lettuce, tomato and cole slaw)

Travelers Chef Salad.......................12.95
(Garden Greens w/ham, cheese, breast of turkey, w/ your choice of dressing)

Old House Salad Special..................12.95
(Garden Greens w/ham, cheese, breast of turkey and house dressing garnished with sliced olives)

Avocado or Tomato.........................16.95
(Stuffed with Lobster Salad, served with potato,lettuce and tomato & onion rings)

Fruit Salad Platter..............................14.95
HOT HEARTY PLATTERS
Old House BBQ Beef or Ribs .......12.95
(Generous portions in Old House BBQ sauce w/golden french fries and lettuce & tomato)

Fish Treat.................................11.95
(Fillet of Fresh Anguilla Fish on a bun w/french fries, cole slaw & tartar sauce)

BBQ Chicken...........................8.95
(Tender Chicken in BBQ sauce w/ golden french fries, lettuce and tomato)

Anguillan King Burger...............10.95
(Giant Ground Beef Burger w/french fries, lettuce and tomato)

Luncheon Strip Steak...............13.95
(Lettuce and tomato w/french fries)
DAILY HABITS
Conch, Whelks, Mutton, or Who Knows What Else (Ask Waitress)

Fresh Caught Anguillan Pot Fish (Steamed or Fried w/Peas & Rice and a Salad)
SANDWICH PLATTERS
COLD
Old House Club........................9.95

Turkey.....................................7.95

Ham.........................................6.95

Ham and Cheese.........................7.95

Roast Beef...................................8.95

Lobster Salad...............................13.95
Hot
Hot Dog............................4.95

Hamburger.......................6.50

Cheeseburger....................7.50

Roast Beef.........................8.95

Grilled Ham & Cheese..........7.95

ALL SERVED WITH COLE SLAW or POTATO SALAD
SIDE ORDERS
Steamed Rice, Rice & Peas or French Fries....................................3.75
DESSERTS
Ice Cream, Sundaes, Cake, Pie, Fresh Fruit Cup, House Surprises (Ask Waitress)
BEVERAGES
Tea (Hot or Iced).....................2.00
Coffee (Hot or Iced..................2.00
Soft Drinks, Beer, Wine, Hi-Balls, Frozen Fruit Daiquiri
---
DINNER MENU
APPETIZERS
Anguillan Starters (SPICY)
Conch......................................7.50

Whelks.....................................8.50

Curry Goat................................7.50
Asparagus Old House.................6.95
Avocado Vinaigrette....................6.50
Soup Du Jour.............................5.50
Fish Chowder.............................6.50
Conch Fritters.............................8.50
Fish Fingers................................6.50
SALADS
Tossed Salad......................6.95

Cole Slaw...........................4.50

Potato Salad......................4.50
Lite Dinner Corner
(1) Old House Omelet..........12.95 (Ham, Cheese, Mushrooms, & Chopped Seasonings)

(2) Soup du Jour & Salad.......13.95 (Soup of the Day w/ green garden tossed salad)
CHEF'S SPECIAL OF THE DAY
(Ask your waitress)
Main Courses
Fresh Local Potfish Anguilla Style.....................................................................18.95
Plate-size fish cooked in lemon, butter, onions, garlic, tomatoes and local herbs sauce

Fresh Fillet of Snapper or Grouper......................................................................21.95
With Almondine or Local Sauce

Native Lobster (When Available)............................................................................Market Price
Or crayfish caught in the warm waters of Anguilla, Broiled to order and served with drawn butter, garlic & lemon sauce

Fresh Conch (When Available) .................................................................................19.95
Selected portions of conch, tendered and cooked in onions, lemon, butter, garlic and local herbs sauce

Old House Seafood Platter...........................................................................................23.95
Deep-fried portions of selected fish, shrimp and conch, in house beer batter

Fried Butterfly Shrimps..................................................................................................23.95
Selected shrimp specially seasoned and deep-fried, in beer batter with herbs

Shrimp Scampi................................................................................................................23.95
Tender shrimps sauteed in garlic, parsley, lemon and butter

Old House BBQ Beef or Ribs................................................................................................19.95
Generous portions of chicken specially seasoned and deep-fried

Golden Fried Chicken............................................................................................................17.95
Selected portions of chicken specially seasoned and deep-fried

Breast of Capon West Indian.............................................................................21.95
Boneless breast of capon sauteed, with mushroom and wine sauce

Steak Maison..................................................................................23.95
A choice strip steak charbroiled to order

Curried lamb (local)........................................................................................................19.95
Local lamb on the bone, in a house curry sauce (mild spicy)

Fresh Tender Conch Fritters....................................................................21.95
Tender Conch in a house batter with herbs, deep-fried and served with cocktail & tartar sauce

(All Served With Steamed Rice, Peas, and Rice, Baked Potato or French Fries, and A Salad

With your choice of Dressing, Rolls & Butter)

For Desserts (ask waitress)

All prices are in US$

Revised: 2000/1/13

---