Sandy Island - Past and Present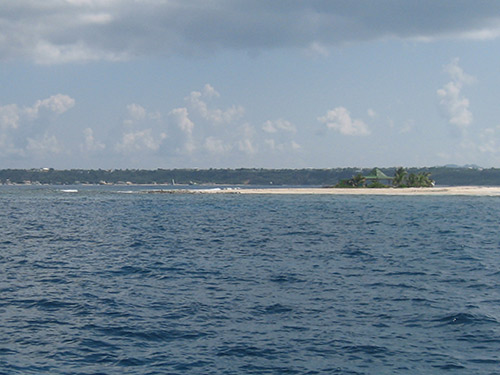 www.news.ai Site Map Click to enlarge pictures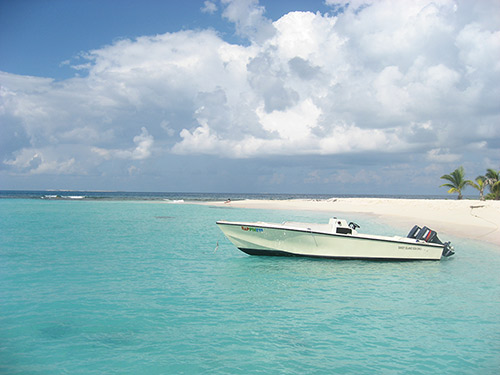 Sandy Island is a tiny islet with a lagoon just off Road Bay.
This sliver of an island is a favorite excursion destination in Anguilla.
In 1999, Oliver has taken over management of Sandy Island and created a new barbeque with complimentary water taxi and live music on Sundays.
Read about it here.
Today, Sandy Island is owned and run by the Connors.
The island has terrific snorkeling and food.
"Jojo's Rum Punch" is the drink to get, and crayfish is the meal we recommend.
Succulent and juicy it comes with a side of salad and rice and peas.
The restaurant is open daily.
They will pick you up in Sandy Ground with their boat, Happiness.
For a look at what Sandy Island was like decades ago, keep reading below...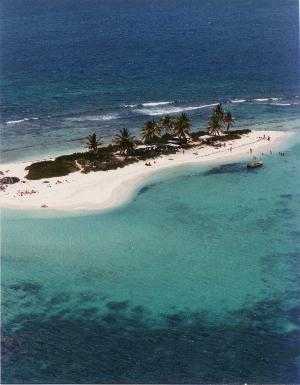 On April 16th 1997, Richard Berglund of Chicago sent me a picture of Sandy Island taken in the early 90s/late 80s:
"I started visiting Anguilla back in the 60's with my Dad and it is the only place in the world as far as I'm concerned. I'm still in a state of 'denial' as far as phones, traffic lights and hotels are concerned but give me another 20 years and I'll get over it. And Anguillians are truly God's people.
Several years ago my father and I went up and flew around Anguilla taking some pictures and I took this air shot of Sandy Island half drapped out the side of a little Cessna. It is one of my all time favorite pictures that I have ever taken of anything. If you like it too... then I'm happy to share it with you for inclusion in your web site. My dad is Dave Berglund at Little Harbour and Seafeathers Bay."
Update: We sailed out to the lagoon at Sandy Island on the catamaran Chocolat in April 1997. There was no one else there. We swam, snorkelled and our Captain bought us a round of drinks at the small beach bar on the islet. Sandy Island used to be the most photographed spot in Anguilla, since it was a beautiful narrow island about 25 by 150 yards with a calm shallow, reef protected lagoon on the leeward side, covered in swaying palm trees.

Since Hurricane Luis it has come back, except that it doesn't look the same without the tall coconut palms. New ones have been planted but they are only about 7 feet tall. Next season they should be fine. The beach bar has been rebuilt and is very nice--we all played with the waitress' young daughter. The snorkelling on the reef was good -- many species of tropical fish to see. For comparison with the past, here is a 1997 picture of Sandy Island.
Revised: September 20, 2013
---
Net Yellow Pages