Summer Camp at Sandy Hill Beach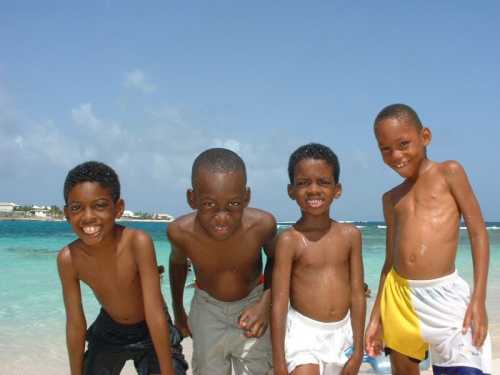 www.news.ai Site Map Click to enlarge pictures
Summer in Anguilla is the time for a wide range of activities organized for children. In July over forty kids started their summer holiday on an exciting note at a one week camp at Sandy Hill Beach organized by the Central Baptist Church which is led by Pastor Cecil Richardson. The main aim of the camp was to stimulate the social development of young people. They camped in blue and white tents dotted on the grass alongside the beach.
Volunteers from the church and community assisted with making the camp's program enlightening and entertaining. 5:30am was "Rise and Shine" (even before the roosters) where the campers did exercises to kick off the day. Other programs included Bible study and quizzes, art and craft, swimming, storytelling, sports and a talent show. Specially invited community groups and members delivered talks including "Drugs and its Dangers" and "First Aid". Their menu was just as varied and exciting, with soups, sandwiches and Caribbean dishes. Breakfast and supper were cooked at the campsite and the main meal which was lunch, was catered. The kids who were begging for an extra week of camp are looking forward to the next one.
Many business places and individuals made this camp what it was: Molly Hodge let them use the land for camping; Island Transport donated water; John and Rina Bedford contributed refreshments and playing equipment, Cable & Wireless provided complementary cell phone service; Rocky Hill Poultry Farm donated eggs; Leith Reid loaned a generator; The Police Department, CPR Unit and Public Health organized talks; Meals on Wheels and Duncan's Catering assisted with meals and the following persons gave generously of their time and efforts: Teacher Louise Brooks, Teacher Vivian Fleming, Teacher Melsadis Fleming and Louise Rogers and family. Thanks is extended to all these persons along with the parents and well wishers.
Article and photos by Janine Edwards
Revised: 2001/10/7
---

Enter some keywords


Subscribe to the Anguilla News for faster information and bonuses: Click Here.