Marjori Morani and Loblolly Studio
www.news.ai Site Map Click to enlarge pictures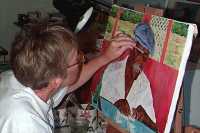 Hidden away in a private home near the village of Island Harbour is Loblolly Studio, workshop of artist Marjori Morani. Marjori moved to Anguilla in 1992 from Maryland where she ran a large art gallery featuring 50 artists.
Marj is a traditional figurative painter who works primarily with a pallete knife. Most of her works feature people or animals. She prepares her own canvas with rabbit skin glue sizing and white titanium for primer. This technique reduces decay and mold (especially important in the tropics). Marj also makes hand-painted tiles, pottery, gift cards and post cards. Her card for the Wallblake House is well known (see it on their web site).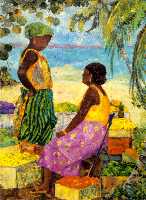 For the Christmas 1997 season she did a commissioned Christmas Card for the Grant a Wish foundation in Maryland. Her cards and tiles are available in Bermuda, Tortola and St Martin, but the originals are only available in Anguilla. She also displays her work at the Savannah Gallery on Crocus Hill, where she will have a show this year.
Directions: on the main road in Island Harbour look for Le Bon Pain bakery. Across the street is a road leading to Loblolly Studio. Follow the little Loblolly tree signs to the studio. Open 2-6PM, Mon-Fri. Telephone: 264-497-4229.
Revised: December 31, 1997

---