Hydroponic Farming at CuisinArt
www.news.ai Site Map Click to enlarge pictures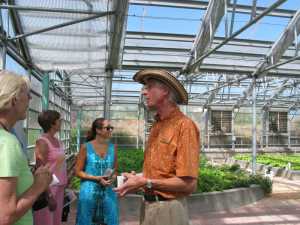 When you enjoy the fresh vegetables at CuisinArt Resort, remember that they have world-class hydroponic gardens. In-house hydroponic farming produces the fresh produce for the restaurants at the resort. Howard Resh PhD (pictured right), author of Hydroponic Food Production, has been the Hydroponic Farm Manager since the project began.
Nothing is left to chance at this soilless growing operation. The greenhouses are hurricane resistant, the water comes from a desalinization plant, and the excess growth and greenery is composted when discarded. There are even decontamination rooms as you enter to keep unwanted bacteria and insects out of the greenhouses.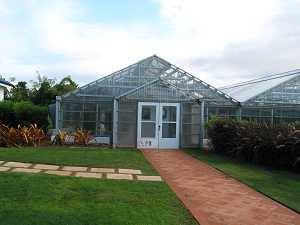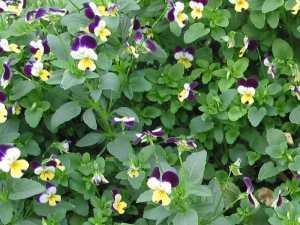 Some of their crops include: beefsteak tomatoes, cherry tomatoes, picolino tomatoes, yellow tomatoes, red, orange and yellow peppers, bok choy, a variety of lettuces, basil, arugula, Italian and moss-curled parsley, chervil, watercress, chives, mint, oregano, dill, thyme, sweet marjoram, string beans and broccoli raab -- even edible nasturiums and violas (as you can see above).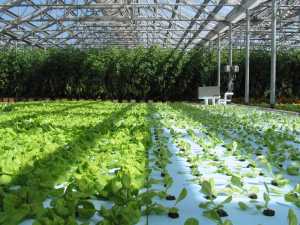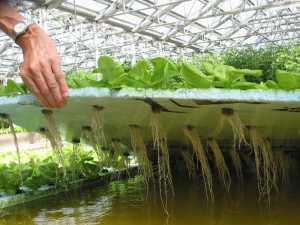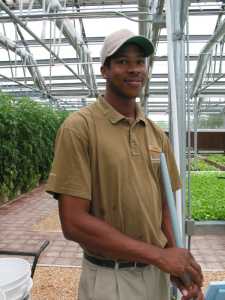 Dr. Resh has been with the farm since it's inception and has been training local staff to take over the operation. A production worker trainee, Cleveson Daniel, is pictured to the right.
The first picture below is of "cukes in buckets", a system for growing cucumbers. The second shows a staff member working on the tomato vines, which grow so high that he must work on stilts!
The third shows germination flats for the new lettuce, which is then transplanted to the growing ponds shown above.
The fourth picture is of cucumbers growing up a vine, then a closeup.
The final picture features bok choy growing in cascading styrofoam boxes.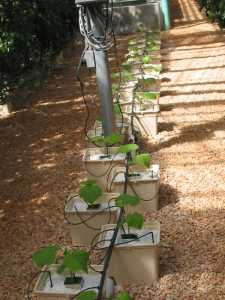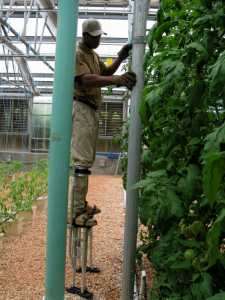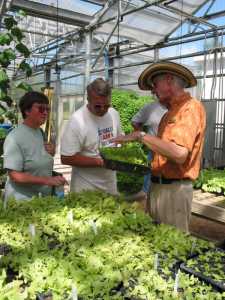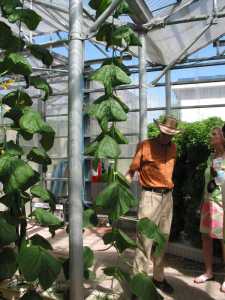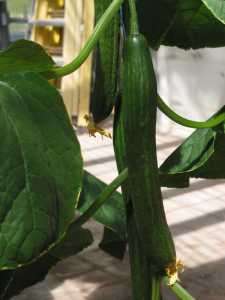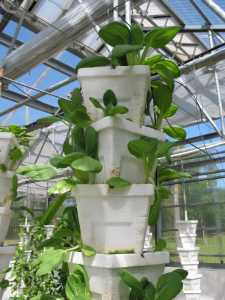 Tours of the operation can easily be arranged by calling the resort at 264.498.2000. And half way through the hour-long tour, when you are just starting to realize how hot it is in the greenhouses, they offer you cool bottles of water!
Directions: on the grounds of CuisinArt Resort. Starting from the airport parking lot, take the only exit and turn left, then left again and past the airport entrance. Continue straight through the roundabout and west down the main island road. Continue straight (leftish) at the Sandy Ground roundabout. After several miles you will see the left turn for Cuisinart Resort (1/2 mile past turn off for Anguilla Great House). Enter the grounds and inquire of the concierge in the lobby.
Story and pictures by Nancy Pfister
Revised: 2003/2/13
---

Enter some keywords


Subscribe to the Anguilla News for faster information and bonuses: Click Here.