Cafe at the Hydroponic Gardens
www.news.ai Site Map Click to enlarge pictures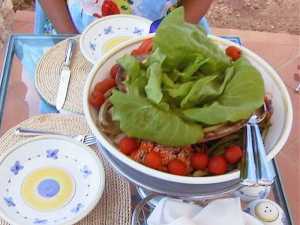 Anguilla has a unique vegetarian choice for lunch at CuisinArt Resort and Spa. Seating is outside under a shade awning, but you are escorted into the greenhouse to choose your lunch from an extensive vegetarian buffet. After you negotiate your likes with the chef, he prepares and serves it.
UPDATE: the Cafe has moved into the Spa building, as the original space did not have enough shade on hot days. The hydroponic gardens are still in full operation.
The day we visited the buffet included a fine couscous salad, eggplant prepared two ways, haricots (beans), sliced, freshly vine-ripened tomatoes, grilled peppers, and much more. Everything on offer was vegetarian. The Antipasto plate at $15 was more than enough for two. But we didn't know that and added a $5 head of hydroponic bib lettuce in a baked bread bowl. A very reasonable lunch for Anguilla. There was far more than we could eat, so it didn't matter that there is no dessert menu.
Kalinga is the chef and maitre'd at the Hydroponic Cafe. He moved from Zaire to Maryland at age 14, went to college in Rhode Island, and met the owner of CuisinArt in Miami and was offered a job in Anguilla.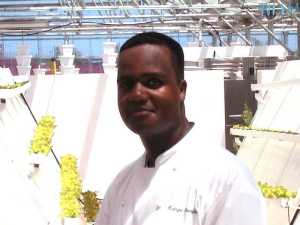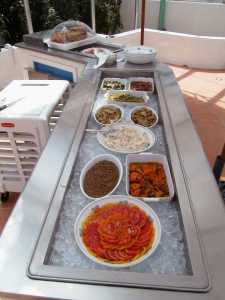 Directions: starting from the airport parking lot, take the only exit and turn left, then left again, past the airport entrance, straight through the roundabout and west down the island along the main road. Continue straight through the Sandy Ground roundabout into South Hill and continue for several miles. The left turn for CuisinArt is just past the turn off for Anguilla Great House. When you enter the resort, you will find the hydroponic cafe on the left of the gate house and guest parking to the right of the lobby.
Revised: 2003/2/11

---

Enter some keywords


Subscribe to the Anguilla News for faster information and bonuses: Click Here.