Hibernia--Still Worth the Drive
www.news.ai Site Map Click to enlarge pictures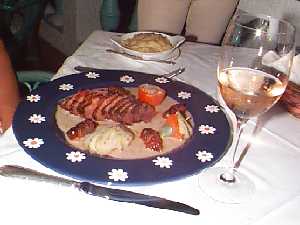 A favorite place to eat in Anguilla, for locals as well as tourists, is Hibernia Restaurant in Island Harbour. Hibernia specializes in French-Indochinese dishes, mostly seafood but also duck, chicken and beef. It is run by husband and wife team, Mary Pat O'Hanlon (hostess) and Rauol Rodriguez (chef), who won "Chef of the Year" in the 1997 All-Anguilla Culinary Contest.
My wife drools over the building as much as the food. The charming West Indian style house, converted into a restaurant, has had the benefit of years of collecting and refining the interior. Rauol and Mary Pat travel extensively every year in the low season, mostly to Asian destinations whre they collect recipes, china and artwork for the restaurant. Each dish on their menu is served on a unique, coordinated china plate from their collection.
Service charge of 10% is added, but you might want to add more. Reservation are strongly recommended. They have email at [email protected] or make your reservation by phone at 1-264-497-4290. Closed Monday.


We went out for dinner at Hibernia in Dec99 and had a great meal. Naturally they have a new menu for this season and we thought you might like to see a copy of it. We also picked up a the Millenium New Years Menu. Prices are in US dollars.
Hibernia's October 1999 Menu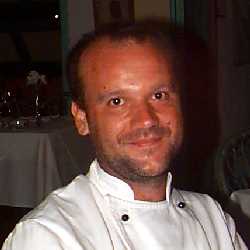 Chef Rauol
Soups and Starters
CARIBBEAN GARDEN VEGETABLES & LENTIL SOUP WITH CUMIN 8.00
CHILLED TOMATO SOUP WITH GRILLED SWEET PEPPERS SEASONED WITH FRESH HERBS 8.75
CARIBBEAN FISH SOUP SERVED WITH ITS ACCOMPANIMENTS 9.50
CHILLED SPRING ROLLS WITH A MARINATED CONCH FILLING ACCOMPANIED BY A FRESH MINT SAlAD , SWEET & SOUR DRESSING 9.50
MOLDED CHIKEN SALAD WITH GRAPEFRUIT , CUCUMBER , YELLOW SQUASH & FRESH HERBS DRESSED WITH A TRUFLE OIL VINAIGRETTE 10.75
A SELECTION OF FINELY SLICED CARIBBEAN FISH (SMOKED IN OUR KITCHEN) SERVED WITH TOASTED BREAD AND A GINGER & HORSERADDISH CREAM CHEESE . (OUR SPECIALITY) 12.75
SASHIMI OF TUNA WRAPPED WITH SEAWEED SERVED WITH A CURRIED PASTRY AND GRATED VEGETABLES 12.00
MIXED LETTUCE WITH OVEN DRIED TOMATOES $ ZUCCHINI DRESSED WITH OLIVE OIL , SMOKED GARLIC & BALSAMIC VINEGAR 9.50
A WARM LOBSTER PREPARATION WRAPPED IN A PAPER THIN PASTRY & SERVED IN A PUMPKIN & CHINESE MUSHROOM SAUCE 12.00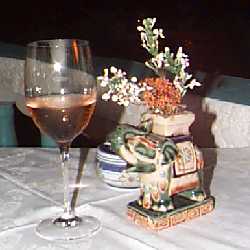 Fresh Flowers, Oriental Charm
Main Courses
SAUTED SHELLED CRAYFISH TAILS SPRINKLED WITH A GRAPEFRUIT & BRAZIL NUT CRUMBLE SERVED WITH A SWEET POTATO CAKE 33.50
A VARIETY OF CARIBBEAN FISH FILLETS COOKED & SERVED IN A SPICY THAI BROTH , ACCOMPANIED BY WILD RICE 24.50
STEAMED SNAPPER FILLET ACCOMPANIED BY A LEEK TARTELETTE & A LIGHT CURRY SAUCE 23.50
BASIL & COCONUT MILK THAI CASSEROLE WITH CRAYFISH SERVED OUT OF THE SHELL , WITH STEAMED RICE NOODLES , SPICY. 33.50
LOBSTER MEDAILLONS STIRFRIED WITH LEMONGRASS , GINGER AND GARDEN VEGETABLES 35.00
GRILLED BREAST OF CHICKEN TOASTED WITH DRY ROASTED PINEAPLE & GOAT CHEESE 22.50 FRENCH DUCK MAGRET LIGHTLY GLAZED WITH HONEY , PAN GRILLED & SERVED WITH A LIME AND THYME SAUCE 27.50
GRILLED BEEF TENDERLOIN WITH ROASTED WHOLE ONION , BANYULS WINE SAUCE AND POTATO GRATIN 29.75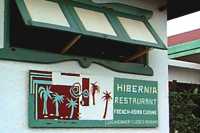 Hibernia New Years Eve 1999
AMUSEBOUCHE WITH FOIE GRAS AND PHEASANT
---
CARIBBEAN "TRIPPLE SHOT " OF CRAB , PUMPKIN AND FRESH FRUIT
---
CHILLED DUCK CONSOMME WITH SPINACH AND CEPES MUSHROOMS
---
SCOTTISH SALMON SMOKED IN OUR KITCHEN SERVED WITH TOASTED GOAT CHEESE SALAD
---
AVOCADO AND GRAPEFRUIT SORBET
---
CRAYFISH "GRAND SIECLE"
---
DESSERT OR ICE-CREAM
---
****FIREWORKS AT MID-NIGHT****
---
U.S.$99.00 + SERVICE CHARGE 10%. 1-264-497-4290.
Revised: December 26, 1999

---