Easter Monday Boat Race - 1998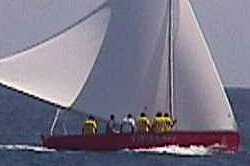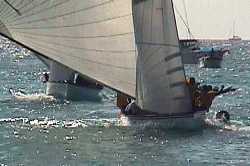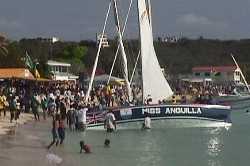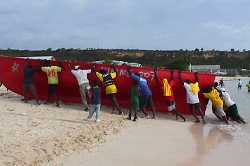 www.news.ai Site Map Click to enlarge pictures
On most Caribbean islands, cricket is the national passion, but on Anguilla it is boat racing.
Easter Monday is the first race of the season. From Sandy Ground around the western tip of Anguilla up the sourthern shore to Sandy Hill Bay, around a bouy, and back the same route to Sandy Ground. This report is for Joan Waskevich, who wrote
A friend of mine will be sailing in the Easter Monday boat race. He owns Bluebird, his name is Carl a.k.a. Shadra. Please include a picture of his boat in your next issue of Anguilla news, because of course they will be the winners, ha ha.
Bluebird came in first on Monday, De Chan was second, and UFO was third. We joined the race at the midpoint as they were rounding the buoy at Sandy Hill bay. Bluebird was in the lead, but De Chan was close behind. On the return leg, De Chan took the lead for a while, but Bluebird regained the lead to emerge victorious. (see the second picture above, which shows Bluebird touching the final flag and De Chan right behind them).
There was a new boat in the race this year, Oliver Brook's Miss Anguilla. See the third picture above.
What makes a boat race special in Anguilla? According to our house guests, it is the spectators. Scotty and Jan were on their way to a sailboat race in Antigua, and wanted to see an Anguillian race. We followed the crowd all around the island in our vehicle, trailing a dump truck with a party of 12 in the back, jumping from beach to beach to see who was in the lead. At the westernmost point of Anguilla, we joined a crowd of 200 at the end of a long dirt road, crowding the cliff edge and arguing loudly about their favorite boat. When the leaders suddenly had to tack to avoid hitting the cliff, the crowd let out a massive gasp and went crazy. We reached Sandy Ground just as Bluebird approached the flag (actually an inflated J&B bottle!) and joined the huge crowd of cheering fans.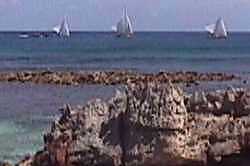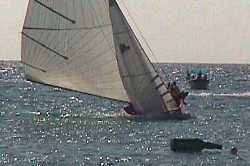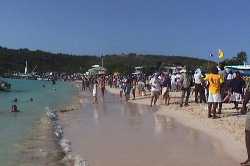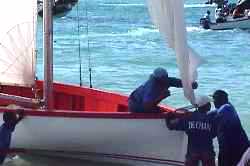 Revised: April 14, 1999

---
Net Yellow Pages