Points of Interest in Blowing Point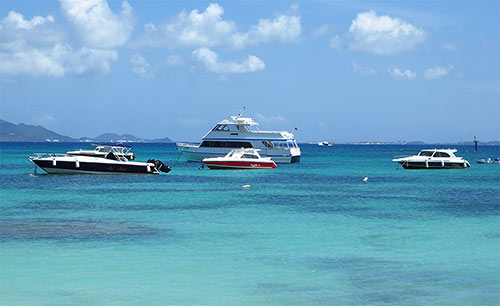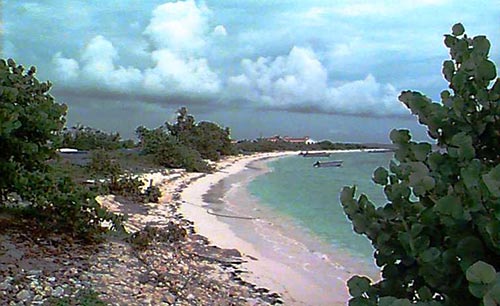 www.news.ai Site Map Click to enlarge pictures
Blowing Point beach to the east of the ferry is a working harbour. You will see numerous small ferry boats and fishing boats anchored in the bay, plus fisherman and a 200 yard stretch of sand. The first photo shows the bay (taken in 2013). The second one offers a different perspective, showing the length of the beach (date: 1999).
Bali Hai at the end of the beach is a villa that can be rented. Blowing Point beach provides some shade under the sea grape trees and you can stroll over to the ferry terminal bar or to Big Jim's Snack Bar. There is another beach to the west, Sandy Point beach, featuring the Ferryboat Inn, Patsy's Seaside Villas and with the Pavillion Hotel a short stroll away.
Walk up the road and there is Ashley's Supermarket, Freedom Rentals (ATV and individual motor boat rentals), Cocono's and Christobelle's Canteen (excellent restaurants that serve local food).
Blowing Point has a lot more to it than the ferry to St Martin.

Big Jim's Snack Bar
Big Jim's reputedly has the best bbq chicken and ribs in Anguilla, some people say the world.
Big Jim's real name is Alfred Romney and he sells cold drinks, plus bbq chicken for EC$6, bbq ribs for EC$8 and johnny cakes for EC$1. Big Jim has been open for 15 years, so he is an institution. He gets a lot of visitors as customers, as well as locals. Big Jim's schedule is Mon-Sat, 10am to 7pm and his sister-in-law opens Sunday from 11am to 5pm. They are happy to prepare take out.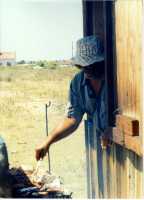 Mid '90s Update: Currently his place is the plywood stand just before the ferry terminal. This is just a temporary replacement for his ancient concrete structure that blew away in Hurricane Luis--you can see that Big Jim is building a much larger permanent structure. If you drop in you may see cows munching the grass and the tables full of domino players.
Dec. 6, 1997 Update: Big Jim Wins Rib-Off! Dec 6, 1997 was a culinary competition in Anguilla. Big Jim won the rib-off contest against some seriously good competition.
May 1998 Update: the walls are up for Big Jim's new bar and restaurant at the ferry terminal. If you want to taste his award-winning BBQ ribs while he still cooks them leaning out the window of his temporary place, don't wait too long.


Amy's Bakery (Now Closed)
News. Dec 15, 1997:
Amy has a new snack bar next to the bakery called Amy's Place. They sell iced tea, lemonade drinks, sodas, and sandwiches, pizzas and other snacks for breakfast, lunch and dinner.
Amy's Bakery is run by Amy Connor and her two daughters. Driving into Blowing Point you will see it on the left side of the road about 200 yards from the beach. She has a reputation for great pastries and sandwiches. People come from all over to shop here. She has customers from the United States, Canada and Europe. In Hurricane Luis the bakery suffered massive water damage, but reopened quickly. They sell cakes, brownies, bread pudding, tarts, muffins, cup cakes, sandwiches and cold beverages. You can try a slice of cake for EC$3 or buy an entire cake for EC$50, or even order a custom cake made for you. Amy's is open Mon-Sat, 6am-6pm.


Guest article by Danny Laud, Student

Danny Laud is a 16-year old student at the high school and a member of the computer club. He plays basketball and does Tae Kwon Do. His ambition is to get a Masters in Computer Science from MIT. Danny has a web page.

Revised: 2013/18/9

---