Hidden Anguilla: Blackgarden Bay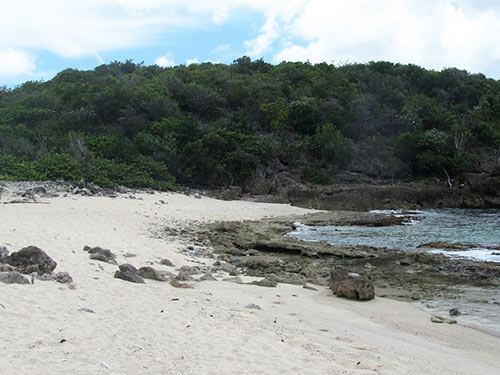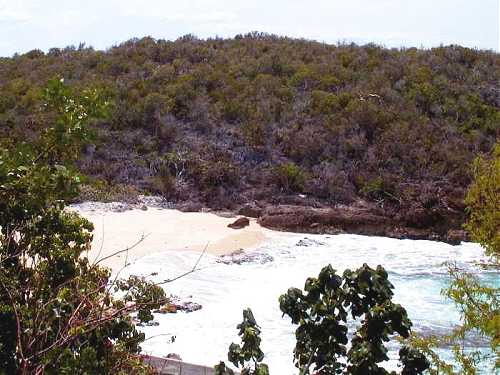 www.news.ai Site Map Click to enlarge pictures
Blackgarden Bay is one of the least-visited beaches in Anguilla. The first photo was taken in 2013. The second was taken in the early 2000's.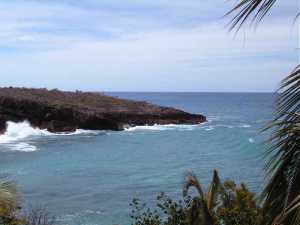 I have seen Blackgarden Bay and took these pictures. The bay is a small inlet with a pretty sandy beach along the rugged north shore, between Limestone Bay and Shoal Bay.
Blackgarden is not easy to find. One way is to go to Limestone Bay, then follow the dirt roads east keeping to the coast. And the roads in that area were damaged by torrential rains during Hurricane Lenny.
Another way, and perhaps an easier way, is to drive into The Valley. Drive past the Anguilla Tourist Board, past the turn off to Ashley's. On the right you will see an old home that hasn't been restored. Turn right there (if you see Natural Mystic you have gone too far).
Then, follow the signs to Villa Kishti. It's about a 10 minute drive from there. You will know you are just about there when you make a left turn, go down a sloped road and see a white house with a dome in front of you. If you keep going right there are more private homes and finally, Villa Kishti (the only rental on the beach).
Park your car at the bottom of that first slope (do not turn right up the hill and go all the way to Villa Kishti). You will see some little stone stairs going down to the beach. Follow them down to the beach.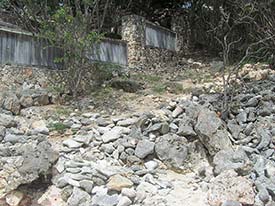 The path runs right next to a private home. Take care to not make too much noise as you head down to the beach. And don't damage any property accidentally :-) It jets you out onto rocks (see photo to the left).
From there, it's just a step down to the beach. The beach itself is small, lined with plenty of rocks. It's not a great spot for swimming, but is a good spot for fishing, either by boat or just by sitting on the cliffs that surround the bay.
It's also nice to just take in the scenery here. Although it can be still in the summer, waves really pick up in the winter.
Note: Photo below was taken on a summer day.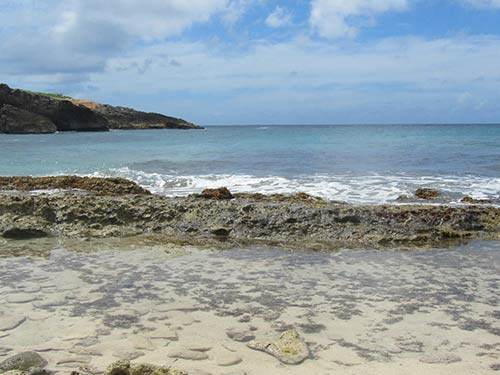 Revised: 2013/9/19
Addendum: here's a nice quick video of Blackgarden Bay, as well as a map that situates it.

---