Anguilla Local News: April 1996
News reports from on the island, as they were posted to the Net: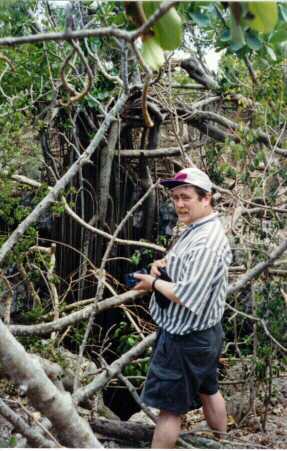 Pitch Apple Hole
More on Our Giant Fossil Rodent
An earlier report described a Paleo World cable TV show on the "Giant Rat" of Anguilla. I have done some more research in the archives of the Anguilla National Trust and can report the following interesting facts.
In 1868, Henry Waters & Brothers, manufacturers of phosphatic fertilizers in the city of Philadelphia, received a shipment of cave earth from Anguilla... Henry Waters was sufficiently astute to notice the presence of fossil bones in his shipment and promptly brought them to the attention of Edward Drinker Cope, one of the countries preeminent paleontologists..Edward Cope could not have been more astounded.. the remains were quite unmistakably those of a rodent, but a rodent of phenomenal size...Cope named his animal Amblyrhiza inundata, the generic name Amblyrhiza roughly translating to "strange root" and reflecting Cope's difficultly in conceiving of the origin of such an aberrant beast. The specific name inundata alludes to Cope's contention that the presence of so large an animal on so small and remote an island evidenced the existence of a foundered (or iundated) land-bridge between the Antilles and South America.

...before we could locate the rodent fossils, we would have to locate caves suitable for trapping such beasts and preserving their bones...the most productive approach to finding caves in the tropical bush is often to seek the advice of local farmers, and this proved almost immediately successful. In the dry tropical forest of Anguilla, certain moisture-loving trees tend to grow where they can extend their roots into the damp interiors of deep caves. The most distinctive of these trees are known locally as pitch-apple trees, and to the experienced eye they can be recognized at a distance by their large, dark green leaves...Pitch Apple Hole, as we came to call the site, proved to be an impressive gaping mouth in the forest floor. Tree roots extended down from the surface to the boulder floor some sixty feet below. Rappelling into the chasm, we quickly established that the cave was not very extensive. A few moments of digging yielded our quarry -- first an incisor tooth and then a large leg bone that clearly did not belong to any animal now living on the island. We had found Amblyrhiza.
References: Terra Vol 30 No 2, 1991, "The Search for Anguilla's Giant Rodent" by Dr. Donald A. McFarlane.
The cave is located on the backroad from North Valley to Shoal Bay. To find it, take the road to Shoal Bay, turn left just before Uncle Ernies on the road to The Fountain Beach Hotel. Follow the road for a couple miles, past both turn offs to the gravel pit, until you reach a spot where the road curves gently to left. You will see a fenced goat pen on the left with an abandoned refrigerator in it and a cleared area along the road without a fence. About fifty yards to the left of the pen you will find a path into the trees that leads to Pitch Apple Hole in less than 50 feet (you can almost see it from the road). Be very careful, as there is no guard rail and a fall would be deadly. There is a large pitch apple tree growing out of the cave, with roots extending down 60 feet to the bottom. This tree has very distinctive wide green leaves that last a long time. In the old days, Anguillans used them for playing cards!
Vince Has a Home Page
Vince Cate of Offshore Information Services Ltd. here in Anguilla now has his own home page: http://www.offshore.com.ai/vince/. Vince has also made up a web page for our Cable TV channels here in Anguilla, with pointers to web pages for stations where possible. About 2/3rds of our statons have web pages.
Mangos is Back and Expanding
Mangos Restaurant at the West End was rebuilt after the hurricane and had a good season under new operators. An acquitance who has been in the restaurant business rated it Very Good and noted that they are expanding the premises, so they can also offer lunch. 809-497-6479.
The Objective Observer
Anguilla's only local paper, The Light, publishes a column of commentary by "The Objective Observer", who gives his expatriate view of life in Anguilla. Now the Objective Observer columns are available on the Internet.
The Auctioner has a Home Page
Mr. Roy Peacock, our auctioneer, now has a web page: http://www.candw.com.ai/~peacockr/Auctions.html. Take a look at see what property is being auctioned off in Anguilla.
Brad Krause of Kinkos Donates Computers
Brad Krause is a manager for Kinkos Copy Centers in the USA and has been coming to Anguilla ever since he picked it as the best place in the Caribbean. He now is an owner at Cove Castles Resort. Brad saw the Anguilla Computes! page on the web and after a sales pitch from Liz Subin at Anguilla National Trust, agreed to donate some of Kinkos "obsolete" PCs to Anguilla. But "obsolete" is in the eye of the beyholder. The first donation consists of six IBM PS/2 systems with 386 CPU, 8MB of RAM, and bright color monitors, in beautiful condition. Tropical Shipping donated the shipping from Miami to Anguilla.

Kinkos has PCs because it sells computer time to the people who use its copiers. These machines must be always up-to-date, so the older computers must be replaced. This very generous gift went to the Chief Ministers office, where it will replace 6 aged PCs that can then go into the Anguilla schools.
Mabel Gumbs and The Canadian Pig Tails
While driving our latest visitors around to see the sites, we stopped for lunch in The Valley at the parking lot between Ronald Webster Park and the high school. Across from the Valley Medical Clinic, Mabel Gumbs has a table on Saturdays, serving up chicken, sweet potato pie, and her delicious corn soup. She told us the soup includes salt beef and pig tails. Our Canadian guests were skeptical about the pig tails, until Mabel pointed to an empty 5 gallon tin. Right on the label it said, "Pig Tails in brine -- Product of Canada." No wonder they had never heard of cooking with pig tails - Canada exports them all to Anguilla.

On Monday, we discovered an odd coincidence. The Winter/Spring issue of Anguilla Life magazine features a profile on Mabel Gumbs and her soup on page 53. This is the special Hurricane Luis Report and is worth having for the before/after pictures. You can subscribe for US$20, EC$54 or UK 14. Anguilla Life, PO Box 109, Anguilla, BWI. Telephone: 264-497-3080.
Bargain Rate $50 Per Night
Arawak Beach Resort in Island Harbour is running a special rate to rebuild their business after recovering from Hurricane Luis. $50 per night. This is an incredible bargain. At this price, they are almost paying you to come to Anguilla. 264-497-4888.
Jeremiah Gumbs in Latest Caribbean Travel & Life
The April issue of Caribbean Travel and Life magazine has a picture of Jeremiah Gumbs on page 100. Mr. Gumbs is the proprietor of the Rendevous Bay Hotel and one of the leaders of the Anguillian Revolution.
Rasta Pasta Is Back
Zara's Seafood Restaurant opened last Saturday on Shoal Bay, with the Rasta Chef, "Shamash", in residence. He used to be the chef at La Fontana, and has brought his Rasta Pasta with him, plus the incredible $5 Chicken Salad lunch - elegant, delicious, beautifully presented. Zara's is run by Sara Richardson and her children, who also operate Whispers and Rumours in East End Village and the restaurant on Prickley Pear Island, which they are rebuilding after Luis. The location is poolside on the grounds of Allamanda Beach Club, in the gardens next to the pool, a short stroll from the beach. Very intimate and attractive. Open for breakfast, lunch and dinner. Take the road to Shoal Bay, turn right at the sign for Allamanda, Milly's Inn, and Serenity. 264-497-3229. Highly recommended. Closed Thursday.
Madeariman Reef Bar and Restaurant
Most tourists going to Shoal Bay head for our Uncle Ernie's, our famous beach joint, for a drink and some ribs in a basket, rubbing elbows with fellow visitors and locals at long tables. But just to the left of Uncle Ernie's, is another choice: Madeariman Reef Restaurant. For just a bit more money, you can your own table, with a table cloth, waitresses in matching tropical outfits, plates, silverware, and a full menu of well prepared and presented dishes. I suggest the Madeariman Salad (fried fish and cray fish over greens with an exceptional sauce), the Lobster pizzas, the Bacon and Cheese pizza, the Ribs, and the Cheese Burger. Prices have gone up since Luis, but are still within reason. As Albert, the chief wine steward at the Malliouhana says, Uncle Ernies is for giving visitors the full Anguillian beach experience, while Madeariman is for taking business aquaintances for a lunch, while still being right on the beach. 264-497-3833.

Continuing my series of Anguillian menus, here is a sampling from theirs:

Lobster Salad    15.00   Madeariman Salad       14.50 
Chef Salad 11    11.00   Chicken Salad          10.00
Lobster Sandwich 13.75   Fish Sandwich          10.50
Lobster Pasta    16.50   Madeariman Pasta       15.00
Vegetable Pizza  10.00   Lobster Pizza          14.50
Chicken Pizza    11.00   Bacon and Cheese Pizza 13.00
Cheese Burgers   10.00   BBQ Ribs                9.50
Catch of the Day 17.50   Lobster or Cray Fish   25.00

Summer Special at Allamanda Beach Club
The Allamanda Beach apartments on Shoal Bay are running a special for the summer season: one night free after six. The rates are $77 to $147 including the 8% tax and the 10% gratuity (usually added to the rate). 264-497-5217.
Hidden Anguilla: Get a Wall Map
Anguilla has many wonderful surprises for those who are willing to venture beyond the tourist path. For example, did you know that you can buy a big survey map of Anguilla from the Lands and Surveys office for a nominal amount. This is the best map of Anguilla and makes a handsome addition to any wall. You will find the Lands office south of the Post Office in The Valley, in the Government compound. Look in the direction of the airport,
Web Sites
Milly's Inn on Shoal Bay has a Web page. Milly's is a locally-owned 4-plex that is close to the beach on a small hill with a great view. http://online.offshore.com.ai/millys/

The Soufriere Volcano on Montserrat is still intermittently exploding and rumbling, threatening part of the island. For current news, check the Montserrat government web site: http://www.geo.mtu.edu/volcanoes/west.indies/soufriere/govt/

For general information on the Caribbean, visit the Caribbean Connection.

Levetta Fleming and Charlotte Berglund have a firm, Sea Breeze Associates, which is a full-service property management company. They can arrange rental villas for holidays and/or long stays. And many of their properties are available at substantial discounts in the off-season (now!). 264-497-3878. And they have a web page: http://www.offshore.com.ai/seabreeze/

Mitchell's Chambers has added a photo to their web page, showing Don Mitchell, Maggie Mitchell, and the rest of the staff. http://www.offshore.com.ai/mitchells/
Anguillian Language Lesson #1
This starts a new series on learning to speak Anguillian. Keep in mind that we live at the East end of the island, so the language may be a little different at the West End.
Above. To the East.
Below. To the West.
In Anguilla you quickly learn what above and below mean. If you don't, you will be totally confused. When you ask for someone and the answer in a one-story building is "She in the room above", look to the East, not Up. And below means toward the West End. Another way to remember this is that above is upwind in sailing.

It is much harder to find out the words for North and South. Since Anguilla is long and skinny, East and West are the more important directions. When asked what they say for "south", an Anguillian replied across, as in "across to St. Martin." When asked what they say for "north", the same person replied across. Getting directions can be difficult when you did not grow up in a place.

For a jump start on your studies, buy a copy of the Dictionary of the Anguillian Language at the National Book Store in the Social Security Complex. For example, Tief - Thief. E.g. 'You too tief'--You are a thief/You like to steal.
Improved Medical Treatment
Anguilla now has a full-time pediatrician, Dr. Rozalina Mladenova, from Bulgaria. She has previously served in Angola, where our mail sometimes goes. Having a specialist for children is important in a country with so many children. And Dr. Lowell Hughes has added a new medical test labortory to his clinic in Water Swamp. This will supplement the tests that can be performed at the hospital, adding more complex chemistry such as thyroid tests. Previously, you had to go off-island for these tests. [And we have a new anathesiologist from Burma.]
Island Harbour School Acquires Computer
The library center at Island Harbour Primary School has a new Pentium computer today, a Dell Dimension XPS/75 with 8MB, 540MB hard drive, CD-ROM, and Sound Blaster with Speakers. The new computer was purchased earlier this year with funds donated by Joan Richards, Colonel Howard's daughter. The computer will be used by teachers and students to carry out research and to keep track of library books. My assistant Griffin Webster and I were able to assist in getting the computer ordered and installed and added some equipment to it. Teacher training will be carried out by Griffin. On the day the computer arrived, Teacher Patsy Adams put out a newsletter for the school!

Now we just need someone to donate a PC to each of the other primary schools on Anguilla.
Real Souvlaki In Anguilla?
Anguilla has great Caribbean and Continental cuisine, but where would you go for a true Greek souvlaki of spicy grilled meat, sliced onion and tomatos, with yogurt sauce and parsley, all on fresh pita bread? The answer is Spiros deli and sandwich restaurant at South Hill Plaza. A deal at $7 when I was there.

. . . continue virtual vacation (preceding month)





---