Sandy Point Beach
From the Anguilla Local News - Site Map.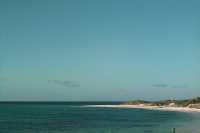 When using the Blowing Point ferry to St. Martin, you may have wondered about that small beach which curves westward out to a sandy point. Naturally, it is called Sandy Point Beach, and it is the only beach in Anguilla with such an extended point (the point at Shoal Bay is not as distinct). It also has a reef and good snorkelling. And a great view of St. Martin.
Sandy Point beach has a small, resort on it, the Ferryboat Inn. The inn has a friendly restaurant and is family-run by John and Marjorie McLean (who is also a trustee of the Wallblake House Restoration Trust). One and two bedroom apartments and a two bedroom beach house, with reasonable rates of $140-250/night ($75-$150 outside the peak season). 264-497-6613.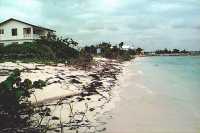 Patsy's Seaside Villas is also right on the beach. Owned and operated by local Mitchell Connor (also skipper of the Cheers), this duplex offers two-bedroom apartments only 10 steps from the water. You can see it in the picture to the right. As Mr. Connor says, the only thing missing is fancy landscaping, but the location is ideal and the price is right ($900/week). Call any night at 264-497-6297. Business has been good and he is building another unit next door.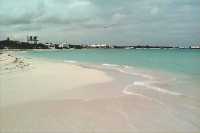 The Pavillion Hotel and a number of villas in the "Cul De Sac" area are also within walking distance of Sandy Point Beach.
Directions: Driving toward the ferry terminal, turn right at the last opportunity, go past entrance to Ferryboat Inn and turn left on dirt road that runs down close to the beach. The last picture here shows the view from the point looking back to the ferry terminal.
Revised: April 01, 1998

---