Zara's Restaurant, 1999 Menu
www.news.ai Site Map Click to enlarge pictures
Zara's Restaurant on Shoal Bay is a favorite with visitors and residents alike. With the expert and friendly Chef Shamash in charge of the open kitchen, dinner at Zara's is delicious and enjoyable.
Update: As of Christmas 1999, Zara's had not reopened for the season.
Web page: www.ai/zaras
Telephone: 1-264-497-3299.
Directions: Starting in the airport parking lot, take the only exit and turn left on airport road. Drive straight past NAPA auto parts, National Bank of Anguilla and straight through the intersection with Barclays Bank and Albert Lakes Grocery. You will got through Stoney Ground and Little Dix village. In about 2 miles you will turn left on a paved road to Shoal Bay. Follow this road over a hill and down toward the beach. At the bottom of the hill, turn right on a gravel road that goes to Allamanda, Zara's and Serenity. Zara's is on the grounds of Allamanda Beach Club resort. Keep to the left on the driveway and park at the bottom of the hill.
Here is the menu for the 1998-1998 season:

HOT SOUPS
Anguillian Pumpkin Soup

$ 7.00

Black Bean Soup

(served with rice & onions )

$ 7.00

Anguillian Chunky Fish Soup

(Grouper or Snapper with

chunky vegetables and served with garlic bread )

$ 8.00
CHILLED SOUPS
Gazpacho

(Shamash�s recipe including balsamic vinegar, parsley & almonds )

$ 8.50

Roast Red Pepper Soup

(Roasted red peppers, garlic, onions, tomatoes, & rosemary pureed then garnished with lemon & basil )

$ 8.00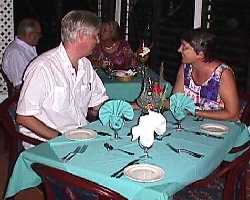 APPETIZERS
Conch Fritters

(

served with Mild or Spicy Dip )

$ 8.50

Shrimp Pernod

(tender shrimp sauteed in butter and shallots and served in a creamy pernod sauce)

Golden Calamari

( calamari rings seasoned then deep fried until tender, served with mild or spicy dip & garnished with lemon )

$ 10.00

Marinated Grilled Vegetables

(combination of vegetables marinated in an olive oil and herbs & served on a bed of lettuce )

$ 9.00

Mixed Toss Salad

$ 7.50

Ceasar Salad

$ 8.00

Conch Ceviche Salad

(

Conch is delicately sliced & marinated in lemon juice & oil )

$ 10.00

Lobster Mango Salad

$ 13.00
Lemon Pasta

( Pasta of your choice, served in a white wine sauce flavoured with garlic, shallots, lemon & topped with parmesan cheese )

$ 15.00

Lobster Penne

( Lobster chunks, tomatoes, mushrooms & riccotta cheese in a pink marinara sauce with a hint of vodka & garlic. Served on a bed of penne pasta )

$ 21.50

Garlic Shrimp Linguine

( Shrimp sauteed with broccoli and mushroom in a garlic and wine sauce. Served with linguine pasta al dente )

$ 21.50

Spaghetti Bolognese

(Ground beef in a tasty tomato & onion sauce, served on spaghetti with mushrooms, carrots & celery)

$ 16.00

Pasta La Zara�s

(Lobster, shrimp & calamari cooked in a tomato sauce with shallots, white wine & olive oil. Topped with fresh basil & served on a pasta of your choice)

$ 23.00

Chef �Shamash� Rasta Pasta

(Chef�s daily creation - see menu board)
ENTREES
Chicken Maria

(Boneless breast sauteed with peppers & onions in a delicate white wine sauce)

$ 17.00

Stuffed Chicken Bracio

( Boneless breast stuffed with ham and mozzarella cheese sauteed in butter, garlic and olive oil )

$ 19.00

Balsamic Grilled Chicken

( Boneless breast grilled with balsamic vinegar and served in a light marinara sauce with sauteed mushrooms and a hint of garlic )

$ 18.50

Rack of Lamb

(Lamb marinated in mustard, honey and herbs then baked and served with a smoked apple sauce)

$ 24.50

Steak Supreme

(14 oz )

( Grilled steak with sage butter & julienne vegetables )

$ 24.50
Chef �Shamash� Veal Special of the Day
$ 22.00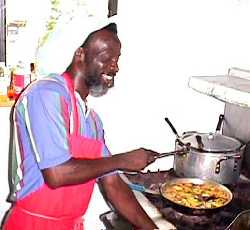 ENTREES
FROM THE REEF
Whole Grilled Stuffed Lobster

( Stuffed with Shamash�s secret ingredients & served with a lemon garlic butter sauce

)

$ 36.00

Lobster Thermidor

( Lobster, mushrooms and onions sautéed in lemon & cream. Served in the shell topped with cheese )

$ 24.00

Shrimp Saffron

( Shrimp and shallots sautéed with garlic, saffron and herbs with a hint of brandy )

Shrimp Feta Cheese Casserole

( Battered shrimp, deep fried and flavoured with herbs, scallion & tomatoes then casseroled in a feta cheese sauce )

$ 21.00

Grilled Mahi Mahi

(

served with a white wine, lemon and garlic sauce, then garnished with chopped tomatoes and fresh basil )

$ 20.00

Spiced Fish Wrapped in Banana Leaf

( Fish fillet spiced with turmeric, ginger and tamarind then grilled in a banana leaf )

$ 21.00
Oven Grilled Snapper

( Fillet of snapper lightly grilled then baked in the oven with pesto )

$ 18.00

Shamash�s Crusted Snapper

(Fillet lightly battered in flour, garlic, pan seared & served on a bed of oriental red cabbage in a lemon butter sauce )

$ 18.50

Anguilla Cracked Conch

(Lightly floured conch pan seared & served with scallions in a creamy white wine sauce)

$ 17.50
Revised: 2000/1/20
---