Budget Anguilla: Willy's Inn
www.news.ai Site Map Click to enlarge pictures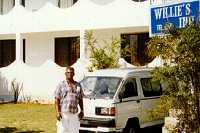 If you turn south at the traffic light in South Hill, you will pass Willy's Inn about half way to Blowing Point village. Proprietor William Gumbs says that has been in operation for 12 years and has 16 efficiency apartments, each complete with bath, kitchen, ceiling fans, Cable TV, hot and cold water, and air conditioning on request. The rooms do not have telephones, but there is a telephone on site. The two-story building has a nice view overlooking the Caribbean and St. Martin.
This is where the students attending the Financial Cryptography conferences stayed. The conference organizers even made a web page so that attendees can see exactly what Willy's apartments look like.
The apartments are modest size at 20' x 12' or 20' x 14', but the rates are also modest year round, at $75+, with group rates available. Credit cards accepted. Maid service is provided and babysitting can be arranged.
Telephone: 264-497-6225/6306. Fax: 264-497-6819. Email: willies-inn@hotmail.com
Guest article by student Danny Laud
Revised: 2002/9/13
---

Enter some keywords


Subscribe to the Anguilla News for faster information and bonuses: Click Here.