Why Knot - from the beach to the ballroom
www.news.ai Site Map Click to enlarge pictures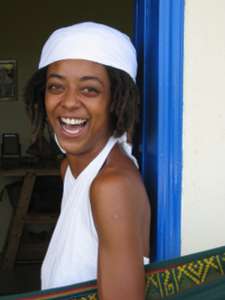 Inspired by Anguilla's natural beauty and lifestyle, Why Knot everywhere wear is a colorful, Caribbean clothing line.
Barefoot, surrounded by sea and sand, Why Knot is the simple stylish cover-up that with the right accessories is transformed into elegant evening wear.
Oleander pink, sunset orange and sea blue are a few choices in a rainbow of mood-enhancing, Caribbean hues.
Hand made in a hundred per cent Indian cotton, the free-flowing garments protect from the sun's rays and shelter from the cool evening breeze. Simple, versatile and extremely comfortable, Why Knot is lightweight and travels well.
Tailor made to each body with the use of a knot, one size fits most. The clothing is a great addition to any wardrobe and makes the ideal gift.
Island Couture
Who is Fabiana?
She is Anguilla's newest fashion designer and her line of clothing Why Knot everywhere wear is perfect for an island setting. (See her picture to the right and above.) Born in Sugar City, St. Kitts, Fabiana completed her education in Canada, where she took courses in Fashion Management and mastered the art of photography while traveling the world. Known in the art world as AbFab (short for Absolutely Fabulous) of abfabphotography@hotmail.com, Fabiana's photography has captured a variety of island themes from children at play to boat building to the inevitable Anguillian goat. Her portfolio also includes internationally famous artistes in performance at the St. Kitts Music Festival and at Moonsplash.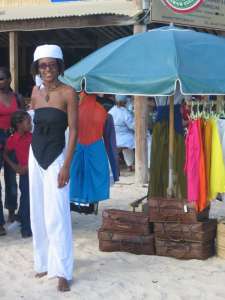 Her photographer's eye for aesthetics, her experience as a model and her natural flair for innovation fired Fabiana's creative imagination to produce the type of clothing that every woman dreams of. Anguilla is known for its high quality of life, its fine cuisine and the best beaches in the world and Why Knot is designed to fit right into this atmosphere of good living.

Having lived in the cold climes of Copenhagen, Anguilla grew on Fabiana from her very first visit in 1999. Since then she's been "stuck in paradise" and has now made the island her home. Beach life, boat life, yoga, the natural living and general ambiance, all combined to inspire the clothing line she labeled Why Knot.

Fabiana's clientele includes the rich and famous as well as the barefoot backpacker. The unique designs and eye-catching colors are also attractive to resident and visiting Anguillians. Yacht people are especially drawn to the clothing that takes up so little space, is very easily laundered and sun dries within minutes. The artist in this exciting new entrepreneur has confessed to getting a rush at the beauty of the garment on the wearer and she never ceases to be amazed at how the pieces compliment every figure.

Why Knot fabrics are delicate, durable and a rare find in Anguilla. Fabiana says that she created the line to solve the problem of excess fabric with the usual sarongs. The soft, sheer cotton breathes to provide comfort and style and the clothing can withstand the range of activity offered on an island vacation.

The characteristic simplicity of Fabiana's line is evident in the classic tunic top with its straight lines and unisex appeal. The versatility of the clothing is best demonstrated by one piece that can work as a beach wrap, skirt, halter-top, bandeau or mini dress depending on the size and taste of the wearer. Three basic Why Knot pieces mixed and matched with such staples as jeans and t-shirts can make for a deceptive but effective expansion of the creative wearer's wardrobe. Another popular piece is the loose, tie around pants that are suitable for most body shapes and are a favourite with the super model and the mother-to-be. They are perfect for gardening as well, as they move with the body and offer no restriction.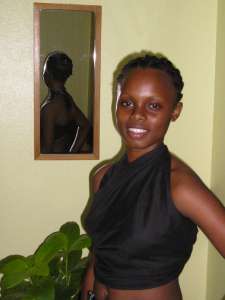 What next from Why Knot? Fabiana's expressive face lights up as she describes the additional wrap top that is still in her head and the children's line for which she has mothered three perfect models. As she continues to produce this line of island couture, Fabiana offers the unique service of personalized wrap sessions for buyers in the convenience of their homes. With her dynamic approach, Fabiana should not be surprised to see her pieces turn up in unlikely places all around the Caribbean and beyond.
Soon to come! "Designer on the Go" services: Fabiana can travel with her trunk to your hotel or villa so that you can select and try on fashion items in the comfort and convenience of your own accomodations.
Also available for sale at her store is Woodlands Designs hemp jewelry and Coconut Creations local jewelry.
Location: See "Why Knot" sign indicating the turn off on West End Mainroad, just past the Gas Station on the mainroad if you're heading West. You'll know if the store is closed if you see the "Knot Today" hanging from her sign on the mainroad.
Why Knot
everywhere wear
by Fabiana
Anguilla, B.W.I.
(264-772-7685) or fabianaliburd@hotmail.com
Story by Ijahnya Christian & Fabiana Liburd. Photos by Fabiana and Joe Vadino.
Revised: 2004/10/27
---
Subscribe to the Anguilla News: Click Here.