A Wedding on Shoal Bay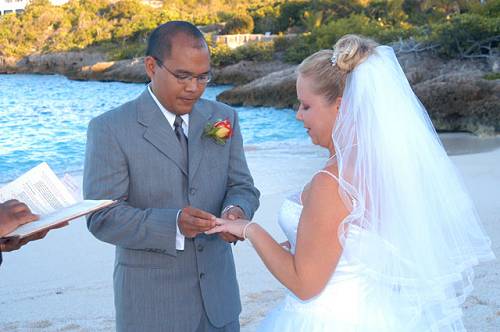 www.news.ai Site Map Click to enlarge pictures
Shoal Bay Anguilla is a beautiful and romantic location for a wedding. At least, that is what Beth and Tomas felt after their wedding.
The wedding took place on the beach at Upper Shoal Bay and on the grounds of Bellamare Villas, where the honeymoon also took place in the Mimosa Villa. The ceremony was beautifully performed by Rev. Lindsey Richardson of the Methodist Church. Flowers came from Purple Rose Florist.
The wedding pictures above were taken by Chris Mason, photograher and web designer (click here for more pictures of the wedding by Chris; email: masonc@masonc.com).
Here are a few candid photos of the bride, taken by Mary Ann Green:
How to Get Married:
Visiting couples must apply for their wedding license 48 hours before the wedding (fee is US$284 stamp duty unless you reside in Anguilla for 15 days before the wedding). Documents required include proof of citizenship such as passport or driver's license and birth certificate, and proof of divorces if any. You should arrive in Anguilla several days before the wedding to arrange the paperwork. Tourist Dept Wedding Page.
There are several wedding planners in Anguilla, such as Weddings on the Go, The Sunshine Lady, and Weddings in Paradise.
More on Anguilla Weddings.
Or you can handle the arrangements by yourself. You apply for the license at the Court Registry the Courthouse (email: axajudicial@gov.ai. Tel: 264-497-2377. Fax: 264-497-5420). Directions: starting in the airport parking lot, take the only exit and turn left, then left again and go past the airport entrance. At the roundabout turn right and go past the Catholic church and the Old Cotton Gin Ice Cream parlor on the left, then turn right into the government complex. Take this road all the way to the end - you should see the Courthouse (pictured below).
You need stamps for the license application, which you get at the Post Office, which is located on the corner where you turned into the government complex (see picture below).
You also need two witnesses, which should be easy to arrange through your accomodations.
You can get married at the Courthouse, but several ministers on Anguilla would be pleased to marry you:
Rev. Lindsey Richardson, Methodist. Tel. 264-497-3059
Pastor Cecil Richardson, Baptist. Tel. 264-497-2967
Father Ed Herberger, Catholic. Tel. 264-497-2405 Email: herbsvd@anguillanet.com (required for Catholic wedding: Confirmation papers; Baptismal certificate; Freedom to Marry papers; Pre Cana course; 3-6 months advance notice)
Pictures by Mary Ann Green, story by Bob Green and Janine Edwards
Revised: 2004/2/1
More On Anguilla Weddings and Honeymoons
Anguilla is the perfect spot to get married, honeymoon, renew vows...
More on Anguilla weddings
More on Anguilla honeymoons

---
Anguilla Tips for New Visitiors.

Subscribe to the Anguilla News: Click Here.